Food & Drink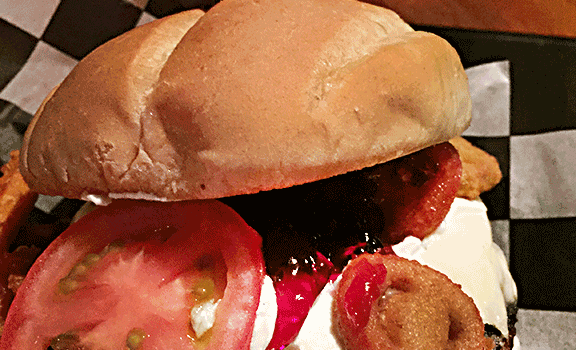 Published on June 9th, 2015 | by Thomas Ritchie
0
A burger with jelly and breaded jalapenos? Yes, please!
Quirky toppings have been all the rage for some time on burgers – eggs, basil aioli, jelly – you name it.
Wait, did I say jelly. Yes, the lowly lunch sandwich staple has found its way into the burger world, and it's not going away anytime soon. Recently I had sandwiches with sweet tomato jam, spicy jalapeno jam and plain old grape jelly.
Grape jelly is one half of the condiment duo that makes up the top of the Popper Topper Burger on the menu at Soho Kitchen and Bar, 1024 4th St, in downtown Sioux City.
Cream cheese is jelly's partner in crime on this burger, which proprietor Julie Schoenherr said has become a Soho favorite. And for good reason.
First, the jelly and cream cheese provide a nice finish with each bite. And because my tastebuds are not usually exposed to such a variety of flavors (did I mention the breaded jalapenos), I had to stop to take it all in. If you have a problem with textures you might not be a big fan of this sandwich, but if you like your flavor large, then this is for you.
As burgers go, it ranks right up there. It's not my favorite burger in town, but its unique combination makes it a standout.
Now about those jalapenos. These aren't just your regular green throw 'em on and send it out style. These babies are breaded! I know, right. You cannot go wrong with this.
And because their heat is counteracted by the sweetness of the jelly and the smooth cream cheese spread, I didn't think they were too hot, which some aim for just for shock value. While I reveled in the jelly and cream cheese toppers, I really enjoyed the jalapenos. I think it was the light breading.
With the excitement on top of this burger, the pepper jack seems to kind of play second fiddle to the rest of the gang, which is fine.
Add your favorite toppers – pickle, tomato and lettuce – to make this stacker a little more traditional, or leave it like I did with just a bit of onion and tomato, and you've got a lunchtime adventure worth trying.