Live Music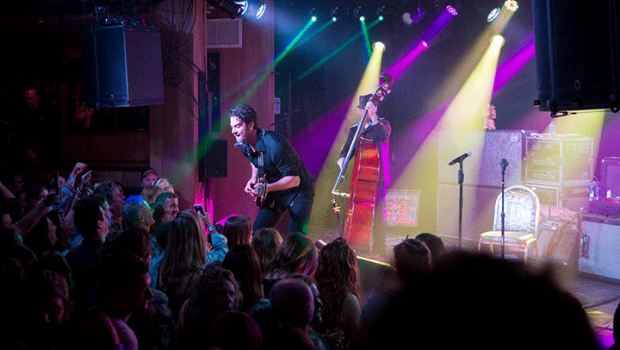 Published on February 19th, 2016 | by Sioux City Now
1
Love letter to G. Love: Your White boy blues changed my life
My Love Letter to G. Love…
Ok, "love" is a bit strong. Just for fun, let's hop into the wayback machine to a strange time in our history: 1994. The reason I say strange is because back in 1994, grunge was waning (Kurt Cobain having died in April) and the charts were littered with syrupy non-descript acts like Ace Of Base, Celine Dion, Mariah Carey, and Coolio (Salt-N-Pepa and Prince being notable standouts).
I was coming out of my "Country Boy Can Survive" phase fully just as America was ingesting the heroine-fueled musing of Alice in Chains. Pop music was like the rest of the country, a jumbled mess. John Wayne Bobbitt, Netscape, OJ Simpson, NAFTA, Jerry Springer, Newt Gingrich, Nancy Kerrigan, White Water, Tech Boom, and so on. As if to reflect the messiness of the times, pop music sought to soothe us with pure pop cotton-candied-trash. Take a look at the Top 10 Billboard charts for that year:
Ace Of Base – The Sign
All-4-One – I Swear
Boyz II Men – I'll Make Love To You
Celine Dion – The Power Of Love
Mariah Carey – Hero
Lisa Loeb and Nine Stories – Stay (I Missed You)
Toni Braxton – Breathe Again
Bryan Adams, Rod Stewart and Sting – All For Love
Ace Of Base – All That She Wants
Ace Of Base – Don't Turn Around
So many forgettable songs and acts, but the one thing the universe has taught us is that order will devolve into chaos (see above) and chaos will coalesce back into order. From this primordial soup comes a young man and a new band from Philly with something so new and different, well… it changed my life. G. Love and Special Sauce's debut offering (we used to call them albums or CDs) was the universe righting itself back to something that actually makes sense: Delta Blues + Hip Hop + Philly Swag = Unbelievably Ahead of its Time Music!
Think about the music that was garnering our attention at the time – formless, without history, by-committee. G. Love offers his listeners something that took another 15 years for the White Stripes and the Black Keys to figure out: The Blues is the heart and soul of American music.
Let's pause here. I can hear the haters already: Isn't G. Love just an earlier/whiter version of Eminem? I must object! You have to remember that back in 1994 nobody wanted to listen to the Blues, even though artists like Prince had the chops for true Blues and its grandson, Funk.
There is a genius to what this white boy from Philly did (and still does). G. Love, obviously a fan and student of the old school Delta blues, not only brought authentic Blues to many uninitiated white ears, he mixed it with the next evolution of the Blues: Hip Hop. Now I remember NWA, Public Enemy, and the like, but G. Love's brand of Hip Hop is much closer to the source: Grand Master Flash in the early 1980's style.
So here is a 3 piece band (with an upright bass no less) playing homage to 1930s-1940s Delta Blues (Muddy Waters, Lead Belly, et al) and mixing it with some of the truest forms of Brooklyn Hip Hop. To my 18-year-old ears, it was pure gold. But G. Love's genius didn't stop there.
Open the catalogue and you'll find everything from Rockabilly to Jazz to R&B. All original, all played on instruments, no auto-tune, all positive, all created with, well… Special Sauce.
For the past 22 years, G. Love has continued his serenade to American Music, leaving us with something new, vintage, and timeless. It's for these reasons I must say that I love G. Love and Special Sauce.
Venue: Hard Rock Hotel & Casino
Tickets: $34-$69
Buy tickets: http://bit.ly/glovesc
And if you can't make the Sioux City show, G. Love is playing Feb. 20 at the Slowdown in Omaha.