Art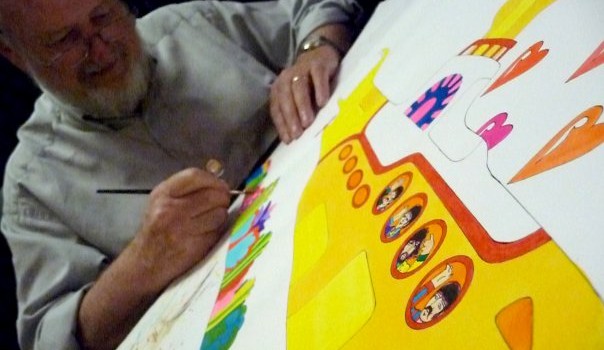 Published on January 14th, 2016 | by Thomas Ritchie
0
Artist behind Yellow Submarine, Smurfs to show work here
The cartoons from the Beatles movie "Yellow Submarine" will be on display Jan. 25-27 at Vangarde Arts, and local arts fans can meet the man behind many famous animated cartoons, including the Smurfs, Flinstones, Scooby Doo and more.
Animator Ron Campbell will be in residency for three days, beginning Monday, Jan. 25 with an opening reception from 4-8 p.m. After that, the gallery will be open through Wednesday from 11 a.m. to 7 p.m.
In the late '60s, Campbell and his friend and colleague Duane Crowther animated many scenes in The Beatles Yellow Submarine feature film, including the Sea of Time sequence, and much of the action between the Chief Blue Meanie and his boot-licking side-kick, Max. He animated a lot of scenes involving the multi-named Boob, Hillary, the Nowhere Man. Earlier, he directed episodes made in Australia of the highly successful television series The Beatles.
After that, he then moved to the United States from his home in Australia, to Hanna-Barbera, going on to write and produce cartoons for Sesame Street and animate on the original George of the Jungle and Tom Slick TV shows. His Hollywood studio, Ron Campbell Films, Inc., produced and directed the animation for The Big Blue Marble, winning many awards, including a Peabody for Excellence in Broadcasting and an Emmy for Best Children's Show of the Year.
In the early 1980s, he drew a majority of the storyboards for Hanna-Barbera's hit series The Smurfs, including the Emmy-award winning Smurfolympics special. Also during the '70s and '80s, Campbell was a storyboard artist for The Teenage Mutant Ninja Turtles and numerous other hit shows of the era, including Flintstones, Jetsons, Captain Caveman, Scooby-Doo and many other shows.
The 1990s took Campbell to Disney TV Animation where he was responsible for animation direction on Bonkers, Goof Troop, and Darkwing Duck. He also spent much of the decade storyboarding for Klasky-Csupo The Rugrats, Rocket Power, and the bizare adult cartoon, Duckman. During that time, he was nominated for an Emmy for a storyboard for Ahh! Real Monsters.
Since 'retiring', Campbell has been creating Cartoon Pop Art paintings based on the cartoon shows he has helped bring to the screen in one capacity or another. He has been showing his Cartoon Pop Art Beatles work in galleries internationally.
Stop in and watch Campbell as he creates many of his most famous characters from the Beatles, Scooby Doo, the Flintstones, the Rugrats and many more!
All three days are FREE and open to the public. Find more about Campbell here.