Community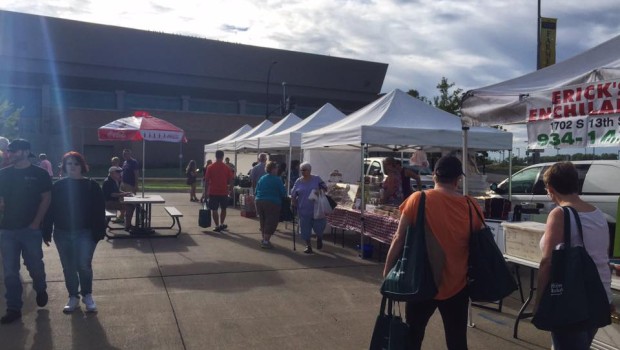 Published on August 20th, 2016 | by Ivy Sweet
0
Farmer's market makes food shopping fun
The farmer's market makes summer grocery shopping something to enjoy.
As a child, I had recollections of my parents buying ears of corn from the farmer's market. I don't know for sure if I ever went with them. I just remember that my mental association with the farmer's market was eating corn on the cob.
This summer I visited the farmer's market to see what it was all about. What I found was a gathering of people and vendors that was more interesting and diverse than just fresh ears of corn (not that I don't enjoy eating corn on the cob).
Putting corn aside, there were five things that stood out to me about my farmer's market experience:
There's more than just corn.
When arriving at the farmer's market, I expected to see piles of ears of corn for sale, since that was the only thing I really had in my head about the market. However, I saw immediately that there was a lot more for sale than just corn – in fact, more than just vegetables.
It turns out you don't have to be a farmer to open a booth at the farmer's market. There were local businesses with booths selling goods other than produce. The Pastry Parlor was among them, selling their delicious German baked treats.
You might think you know everything about vegetables, but you probably don't.
I walked up to a booth selling vegetables that included cabbages, Brussels sprouts, and another strange vegetable that I had never seen before. When I asked one of the vendors about it, he informed me that it was another type of red cabbage.
Apparently there are at least 11 different types of cabbages and several ways to prepare each of them. Even if you are an avid cabbage-eater and already know all of this, there are plenty of other foods that you could probably learn something new about.
Lots of people come to the farmer's market – and they seem to enjoy it.
The fairly small area in which the farmer's market takes place was very crowded. And even though it was really hot outside, most of the people I saw – vendors and shoppers – seemed to be having fun. The atmosphere of people being excited and interested to be there reminded me of a music festival, except there was no music. It was a good vibe to be around.
It's more fun than going to a grocery store.
The hot summer weather might make it hard to be outside some days. But the social aspect of interacting with the vendors and the items for sale that can't be bought at a traditional grocery store (such as the Pastry Parlor's goodies) make the farmer's market a more rewarding experience than just going to the store.
There's something there for everyone.
Regardless of what your food tastes are, with the wide variety of products for sale at the farmer's market, there's sure to be something there for you. It would probably be worthwhile to try something new if it piques your interest, too.
The farmer's market is located in the parking lot next to Tyson Events Center on the corner of Pearl St. and Tri-View Ave. It is open on Wednesday and Saturday mornings from 8 a.m. to 1 p.m. and will run until October 29th.
Photo cred: Facebook