Food & Drink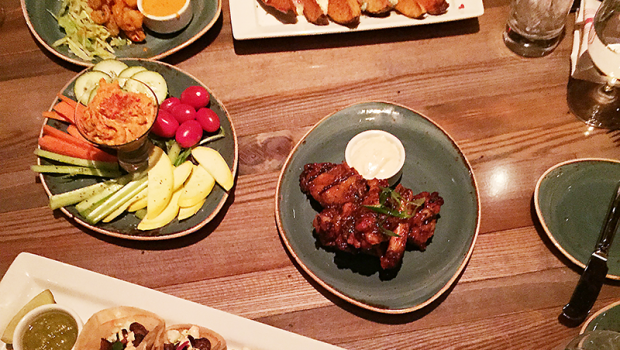 Published on February 18th, 2015 | by Thomas Ritchie
0
Main + Abbey Happy Hour is a truly flavorful journey
Come hungry. That's my advice for properly enjoying Happy Hour at Main + Abbey restaurant.
We did just that on a recent weeknight and ordered up nearly every app and drink available on the Happy Hour starter menu. And we loved it.
There are 10 apps and four mixed drinks on the Happy Hour specials list, and to say that each food experience is unique would be an understatement. These tasty starters and beverages all bring the flavor in their own right.
So where do I start? How about with the atmosphere.
Main + Abbey is a quiet, dimly lit and relatively low-key restaurant. There isn't a lot of TVs, a lot of kitchen noise or extra waiters running around. And that was refreshing because we were able to focus on the food, drinks and conversation, as it should be.
First, to dispel one myth: M+A has been cast as the "expensive" eatery in the Hard Rock Hotel and Casino. While they feature some really nice signature entrees and fine wines, we found the Happy Hour to be an affordable night out, especially if you go with a group.
So, what did we eat? Almost everything on the Small Plates menu.
I'll start with the Street Tacos and the Chili Fried Shrimp, which were my favorites.
A plate of three Street Tacos are served with lime slices and a flavorful chipotle sour cream. You squeeze the lime and it tastes like you're eating dinner fresh off a food truck. And that's a good thing.
The flavor of the steak (you also can get salmon or chicken) was awesome, and the cabbage slaw and onions round out the flavor on these mini delights. I topped mine with a green salsa, too. Yum!
The Chili Fried Shrimp really was made whole when I added the hot sauce that accompanied the dish. In fact, almost every app we tried came with its own sauce, and for people who appreciate condiments, that's a good thing. We mixed and matched sauces with different dishes just for fun.
The sauce was listed on the menu as "tangy sauce" so I'm not sure what was in it, but when we topped the pile of fried shrimp and cabbage slaw with this delicious drizzle, the heat was just perfect.
I recommend hitting Happy Hour with a group of three or more, that way you can order a handful of starters and drinks and really get a well-rounded experience. In fact, we left after apps and our group of three was all full, no dinner required. Next time, however, I'm cutting the apps short and getting a steak.
Next up were the Rueben Spring Rolls, a downright surprise. I'm a fan of the rueben, and I also love spring rolls, so this was an easy hit. The 1000 Island dressing was tangy and perfect on these healthy portioned dippers.
We also tried the Hefeweizen Hummus – which is served with fresh veggie slices – the Amish Blue and Bacon Wedges – which were savory – and the Kalbi Chicken Wings.
The Hummus was fine, but I thought it lacked cumin, which I'm sure the chef intended. However, I think if I'd have had this dish alone, I would have appreciated the reddish-orange tahini spread more.
The wedges were nicely doused with a rich blue cheese bechamel and bacon (although more bacon would not have hurt) and garnished with strands of fresh chive. Again, delicious.
The wings stuck out however, and here's why. Too often, chefs try to make their wings really hot or really saucy, but these were nicely finished with a soy-ginger glaze that wasn't overpowering or oversauced. The menu listed them as spicy, but none in our group would qualify them that way. That was just fine with me – the soy-ginger flavor was really perfect. And the creamy garlic dip was spectacular. I could have eaten another order of these.
I won't spend much time on the drinks because everyone has different tastes.
Our group tried the Moscow Mule, the Pimm's Cup No. 7 and the Pear Ginger Whiskey Smash, and they were all flavorful and well made. The happy hour special also includes a Perfect Cherry Westminster, which I'll try next time. A number of nicely priced beers and wines also round out the menu.
As for pricing, that's the best part. All the happy hour drinks are just $3.50, a great price for a mixed drink. And the app plates are all half price at $4 a plate. So with a table of 3, we each ordered 2 drinks and 2 apps, which we all shared, for around $45. We could have easily welcomed another diner to share in the apps and all been satisfied.
Main + Abbey's Happy Hour is a win on all fronts – mellow atmosphere, great prices and food you will tell your friends about. What else can you ask for?