Movie Reviews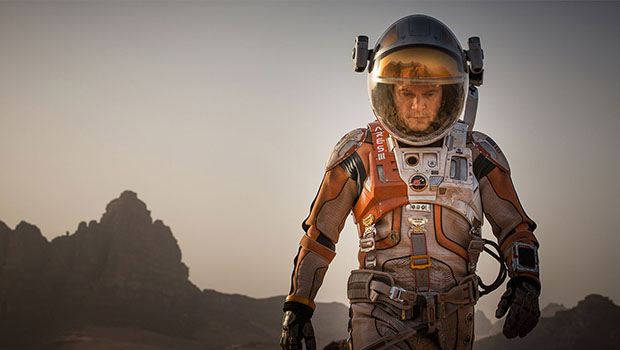 Published on November 5th, 2015 | by Leslie Erickson
0
Matt Damon gives endearing performance in 'The Martian'
"In the face of overwhelming odds, I'm left with only one option, I'm gonna have to science the shit out of this."
– Mark Watney
The Martian
Director: Ridley Scott
Writer: Drew Goddard (screenplay), Andy Weir (book)
Stars: Matt Damon, Jessica Chastain, Jeff Daniels, Chiwetel Ejiofor, Kristen Wiig
IMDB Link: http://www.imdb.com/title/tt3659388/?ref_=nv_sr_1
★★★★
You can now listen to an audio recording of this review, or scroll down to keep reading:
High-tech, big-budget films set in space have become regular fare over the past few years with 2013's Gravity and 2014's Interstellar, and 2015 is no exception. Ridley Scott's The Martian, starring Matt Damon as space botanist Mark Watley, who finds himself marooned on Mars, may be the best of the three. With Damon at its center, the film's almost two and a half hours fly by as his character's MacGyver-like ingenuity, a strong cast, and believable special effects work creatively and tirelessly to bring him home.
The sense of urgency that the film conveys is in itself a testament to Scott's direction – the action of the film takes place over hundreds of sols, or Martian days, and much of what Watney must do is repetitive and unexciting but important to convey. Ridley, no stranger to long films and complex plot lines, manages the action well as he balances realistic special effects with the intellectual and emotional struggles of his protagonist, the crew who unknowingly abandons him, and the engineers and scientists who must find a way to bring him home.
Damon is his typical charming self as the marooned Watley. He turns in a performance that is believable and sympathetic and his character is just the right combination of funny, discouraged, angry, and cocky – the perfect everyday hero in an atypical journey. And really, that's what this story is – a hero's journey. With a script that follows that archetypal form – Watley is called to adventure by being marooned, faces a road of trials in challenges and setbacks, and returns to share the wisdom gained during the journey – The Martian appeals to the collective unconscious of its audience.
Like all good heroes, Watley is assisted by magical helpers. The supporting cast is sometimes unwilling – the director of NASA has to weigh the fate of one man against that of many; sometimes magically intuitive – the engineers at the Jet Propulsion Lab who figure out the logistics of bringing him home; and sometimes unexpected – aid from foreign lands.
This supporting cast, which includes Jeff Daniels, Jessica Chastain, and Chiwetel Ejiofor, is truly an ensemble cast with all strong but no standout performances. The only weak performance, and a role that seemed to gain unwarranted attention throughout the film, was that of Kristen Wiig as the press secretary for NASA. Her character seems to be in a constant state of bewilderment and shock, conveyed in regular, irrelevant cut-aways.
This distraction was one of the few flaws in an entertaining and engaging adventure. That some of the plot complications are unrealistic if you know the science, and some of the reactions of the characters stretch our suspension of disbelief, really doesn't matter. And while the story is compelling and the direction and special effects are convincing, it's Damon's endearing performance that seals the deal. Feeling his struggles and rooting for his successes, we are his willing companions on his quest to come home.
The Martian is playing at the Sioux City Promenade Theatre. Click here for showtimes.
View the official trailer below:
—
Listen to Leslie read her reviews: Movies With Leslie on KWIT.