Movie Reviews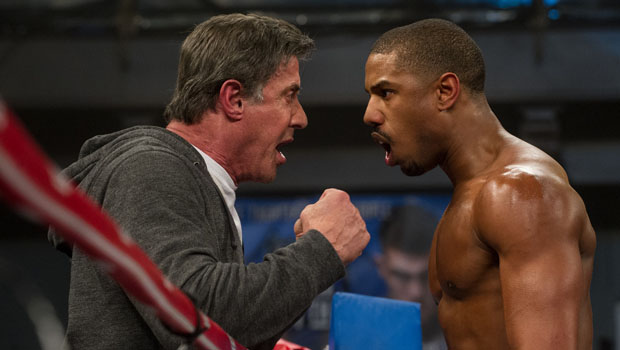 Published on December 4th, 2015 | by Leslie Erickson
0
'Creed' is a knockout film, worth going all 12 rounds
"You're still caught in his shadow. Gotta move, Don."
― Rocky Balboa
Creed
Director: Ryan Coogler
Writers: Ryan Coogler, Aaron Covington
Actors: Michael B. Jordan, Sylvester Stallone, Tessa Thompson, Phylicia Rashad
IMDB Link: http://www.imdb.com/title/tt3076658/?ref_=nv_sr_1
★★★★ 1/2
You can now listen to an audio recording of this review, or scroll down to keep reading:
When I heard there was a new Rocky movie coming out, I was, to say the least, skeptical. I was around when the first Rocky won the Oscar 40 years ago for best picture, beating out more "serious" films like All the President's Men and Network, and I, like most of America, was a fan. Not so much for the five sequels. But Creed, a film that finds Rocky as a quiet, contented, unassuming restaurant owner, is anything but a disappointment.
The first of the Rocky films that doesn't focus around the boxing icon, the story centers around Adonis Creed, illegitimate son of Rocky's rival and friend, Apollo Creed. It begins with an adolescent, angry Creed, fighting in a juvenile detention center, and jumps to another fight, years later, as he boxes in a smoky backroom across the Mexican border. We quickly come to understand that Creed, who prefers to be known as Donnie Johnson, struggles with his legacy and all of the baggage his father's fame brings, and prefers to make a name on his own. His struggle to legitimize his boxing career, on his own reputation, runs parallel with his struggle to come to terms with abandonment and trust issues.
Michael B. Jordan, as the title character, balances these two battles with charm and passion. His performance is beautiful and convincing as he avoids what could have been an easy overreach. His struggles ring with authenticity – he's the guy down the street who is pursuing his dream and confronting his demons. While we've seen so many actors in this kind of role blowing up their battles in every scene for exaggerated effect, Jordan's subtle shifts in emotion, balanced of course with the passion and physicality of a boxer, creates an intimacy seldom experienced in a film such as this.
Sylvester Stallone also turns in a stellar performance. As a subdued Rocky who's made peace with his life and its losses, he plays the retired boxer as a gentle and kind mentor to the young Creed. The chemistry between the two is flawless; it is refreshing to see a seasoned actor, in the franchise he made famous, stand down to allow the new hero to shine. Their on-screen relationship accomplishes what director Ryan Coogler sought: "It's a sport where you need to lean on other people," the filmmaker said. "You see fighters have this bond with their trainer. We saw it with Tyson and Cus D'amato. We saw it with Rocky and Mick. It's a very special bond. We wanted to capture that."
The cast is small, with most of the action centering on these two and their combined and individual challenges, but Tessa Thompson and Phylicia Rashad play their small but important roles well.  Thompson, as Creed's love interest, and Rashad, as Apollo's widow, are not only supporting actors in the film but also supporting characters to the young Creed. Often, in Hollywood's new lens of awareness, female characters are thrown into films seemingly to meet quota, but these two roles are crucial and indispensable to the story, just as they are to our hero's development. It's also worth mentioning that many of the boxing characters in the film are played by actual boxing personalities, including British boxer Tony Bellew as "Pretty" Ricky Conlan, the boxer Creed faces in the film's climax.
The story, written by Coogler and Aaron Covington, is the first Rocky film not written by Sylvester Stallone. Stallone was reticent about making the project at first, but agreed to do it after meeting with Coogler. Clearly he recognized that this was not only an homage to the characters he had created, but a substantial and compelling story on its own.
Coogler's direction is magical. For a young, inexperienced director with only one other feature film under his belt, the not-quite-30-year-old elicits subtle, memorable performances from rookies and seasoned actors alike, and the fight scenes may be the best I've ever watched. I am normally NOT a fan of boxing, but Coogler balances the physical dance and the mental toll the sport requires masterfully. I could watch the fight scenes again and again, wincing with every connected punch and cheering with every victory.
This film's victory stems from it being what a sequel should be but seldom is – a move forward, a passing of the torch – rather than just a rehashing of old stories. Of course there are the allusions to the original film, including just a few strategically placed bars of the oh-so-recognizable theme song, but that doesn't stop Creed from being fresh and contemporary.  To employ the obvious metaphor, this film is a knockout, but it's worth going all 12 rounds.
Creed is now playing at Promenade Cinemas. Click here for showtimes.
Watch the Official Trailer below:
Listen to Leslie read her reviews: Movies With Leslie on KWIT.
---