Movie Reviews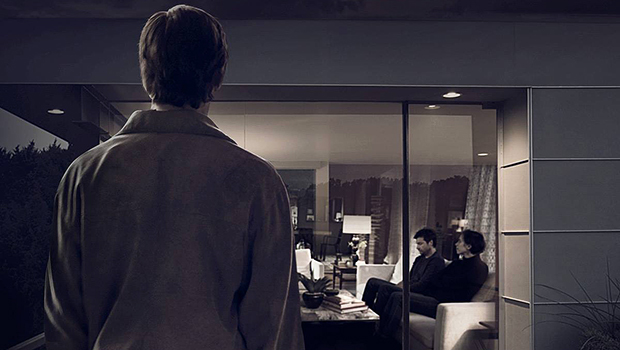 Published on September 14th, 2015 | by Leslie Erickson
0
'The Gift' bestows audience with compelling ambiguity
"You think you're done with the past, but the past is not done with you." – Gordo
The Gift
Director: Joel Edgerton
Actors: Jason Bateman, Rebecca Hall, Joel Edgerton
Writer: Joel Edgerton
IMDB Link: http://www.imdb.com/title/tt4178092/?ref_=fn_al_tt_1
★★★★
When we think of a suspense thriller involving a married couple and a third character who stalks one of them, usually we usually think of misplaced and often pathological romantic obsessions – Fatal Attraction, Basic Instinct, or Gone Girl. The Gift gives a new twist on the idea. Sort of.
One of the primary gifts The Gift bestows on its audience is ambiguity. Joel Edgerton plays Gordo, a character obsessed with the past and who seeks retribution for years-old mistreatment. As Gordo creepily stalks his high school classmate, Simon, played by Jason Bateman in what may be his strongest performance to date, he shifts his attention to Simon's wife, Robyn, played by Rebecca Hall. We're never sure if Robyn is his target or Gordo simply indicates pursuit of her to hurt Simon.
Edgerton also directs the film, and he keeps the audience guessing not only about character motives, but also about what kind of people the characters are – we're never really sure whom to root for as the drama plays out. Simon, who at first seems a good guy, becomes darker and darker as we learn he was a high school bully, and that he hasn't really abandoned those bullying tactics. Anyone who has been bullied will find it hard to like the character as the film progresses, and Bateman does a fine job conveying this complex character and his contradictions.
The antagonist to Bateman's protagonist, Gordo is also complex. Is he just the awkward, unpopular high school boy all grown up into an awkward, creepy adult, or is he something more? How much of his character is victim and how much is he the careful orchestrator of events? Is Bateman's character really the protagonist or is Edgerton's? Or is the story really about Robyn?
As Robyn, Rebecca Hall turns in the weakest performance in the film. Perhaps if she'd been more convincing and given a stronger performance, we would be able to see her as the protagonist. But she never really hits her stride or carries the complexities written into her character as fully as she could have. She isn't terrible, but she simply never convinces us to care a great deal about her.
Any film that keeps the audience guessing most likely involves a well-written script, and while there aren't many great memorable lines, Edgerton's ability to tell a story and keep us guessing is noteworthy. I jumped a few times in the film, and I was surprised more than once by the plot complications.  He effectively seams together the complexities of characters, intricacies of plot, and ambiguity of motive, and we as the audience are compelled to pay attention from the opening scene through the, well, ambiguous conclusion.
While The Gift, for some reason, never really feels like a great film, it is a very good one. Edgerton has constructed a compelling film with the help of Bateman's performance, and the script's originality and ambiguities make it worth the ticket price. Plus, if you've ever been bullied or watched someone suffer at the hands of a bully, you'll enjoy this film. If you've bullied others, it might give you pause to reconsider your actions – perhaps you should make amends to those you tormented because you never know when they might come back with a very special gift, just for you.
The Gift is now playing through Friday at The Promenade Theatre. Click here for showtimes.
Watch the official trailer: