Pets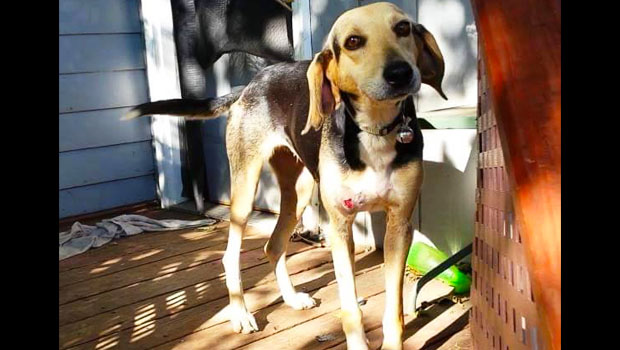 Published on December 24th, 2015 | by Noah's Hope -- Barbara Gross
0
Pet of the Week – Barbwire – ADOPTED!
This 3- or 4-year-old female black and tan Coonhound was a stray when she came to Noah's Hope, so we don't know a lot about her. We named her Barbwire because she looks like she has tangled with a few snarly fences in her time running loose. Judging by the many scars on her face and legs, she has been chasing rabbits in all the wrong places. Now she's safe and quite sedentary in her Noah's Hope foster home.
Barbwire is very shy when she meets new people, but she will slowly come around. She will need patience and some extra time to adjust to her new home. Once she is comfortable, she loves everything and everyone. She gets along great with dogs of all sizes and enjoys the company of people of all sizes too. Barbwire has not been tested with cats. She weighs just 45 pounds and is also housetrained.
This is a very sweet, loving dog that will make someone a wonderful companion. Can she go home with you?
Barbwire is spayed, vaccinated, and micro chipped. Her adoption fee is $135. To complete an adoption application for this girl or any of her rescue friends, please visit our website, or call Deanna at 712-253-8394.
https://www.facebook.com/NoahsHopeAnimalRescue
Noah's Hope Animal Rescue is an all-volunteer, 501(c)3 nonprofit corporation. We rescue the underdogs: the old, the sick and injured, the used-up by breeders, the forsaken and misunderstood. We nurse them, bring them back from the brink, and give them another chance. We believe they make the very best pets because somehow, they understand and are grateful.