Pets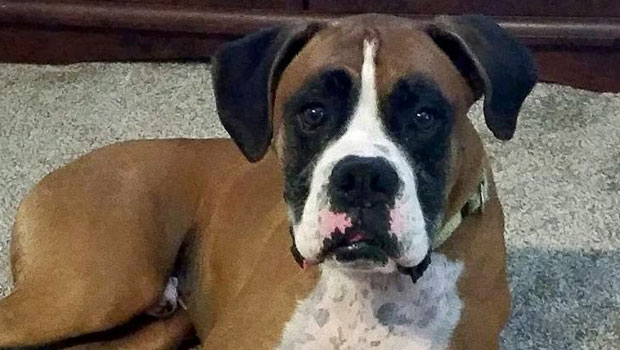 Published on July 28th, 2015 | by Noah's Hope -- Barbara Gross
0
Pet of the Week – Ox – ADOPTED!
Ox is an 8-year-old purebred Boxer looking for a couch to crash on. He is perfectly housebroken and has wonderful house manners. He is learning it is ok to sleep on the bed, but prefers to lie in a pile of soft blankets or a nice comfy dog bed. He is kenneled during the day while we are gone, but with how good he is that may not be necessary.
Ox is a laid-back dude, but still enjoys the essentials like car rides (with his ears flowing in the wind, of course!), walks, treats, and watching TV with you. He is scared of the resident cat, doesn't mind other dogs large or small as long as they have somewhat the same energy level as him, and is ok with kids over the age of 10-12. He is a homebody who doesn't like to go out in large crowds. Ox does take a little bit to warm up to new people (especially men), but once he does he is quite the character! He promises to always jump 4 feet in the air when you come home, be fiercely loyal to you, and love his family unconditionally.
Ox is neutered, vaccinated, and micro chipped. His adoption fee is $85.
You can apply to adopt this great guy at our website, or call Deanna at 712-253-8394.
http://www.noahshopeanimalrescue.com/adopt/apply/
https://www.facebook.com/NoahsHopeAnimalRescue
http://www.noahshopeanimalrescue.com
Noah's Hope Animal Rescue is an all-volunteer, 501(c)3 nonprofit corporation. We rescue the underdogs: the old, the sick and injured, the used-up by breeders, the forsaken and misunderstood. We nurse them, bring them back from the brink, and give them another chance. We believe they make the very best pets because somehow, they understand and are grateful.