Pets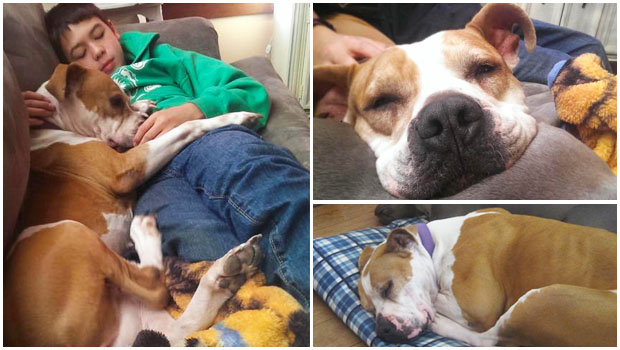 Published on November 25th, 2015 | by Noah's Hope -- Barbara Gross
0
Pet of the Week – Rashia – ADOPTED!
Rashia is a 7-year-old female pit bull that was in horrible shape when she came to Noah's Hope. She had infected paws and was severely under weight. She was afraid of everything and everyone. We didn't know if she would ever be a normal, friendly dog, but after about two weeks, she showed us her true personality, and it is lovely. You couldn't ask for a better dog than this girl.
Rashia is very well-mannered and sweet. She loves to lounge around and be close to her people. She is great with the kids in her foster home and the bigger dogs. She has attached herself to one of the resident dogs and rarely leaves his side. It is as if she has found a friend, and is learning what she needs to know from him. She's good with cats, too.
We would love to see her adopted by a family with a well-adjusted larger dog because she is lost if she doesn't have a friend to pal around with and guide her. She has come a long way, but will need her new owners to be patient with her as she continues to adjust.
Rashia has been in our foster system a long time, and although her foster family loves her dearly, she deserves her forever home.
Rashia is spayed, vaccinated and micro chipped. Due to her breed, she will need a home outside of the city limits of Sioux City. Her adoption fee is $135. To complete an adoption application for Rashia or any of her rescue friends, please visit our website, or call Deanna at 712-253-8394.
https://www.facebook.com/NoahsHopeAnimalRescue
Noah's Hope Animal Rescue is an all-volunteer, 501(c)3 nonprofit corporation. We rescue the underdogs: the old, the sick and injured, the used-up by breeders, the forsaken and misunderstood. We nurse them, bring them back from the brink, and give them another chance. We believe they make the very best pets because somehow, they understand and are grateful.