Pets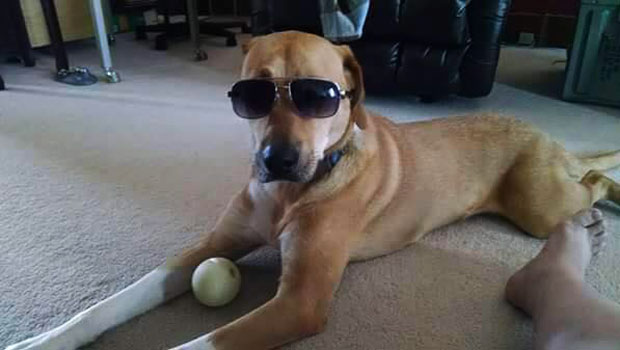 Published on March 12th, 2016 | by Noah's Hope -- Lita Shulenberger
0
Pet of the Week – Rocky – ADOPTED!
We would like you to meet Rocky. His name brings to mind a famous movie character that often came across as a tough guy on the outside but is really just a softy on the inside. That describes this Rocky too.
Rocky is a sweet boy that likes to cuddle. He will hop right in bed with you and go to sleep if you let him, or if you don't like that, he will sleep in his favorite bed or chair. He happily hangs out with his doggie foster siblings both big and small, but doesn't like the cat.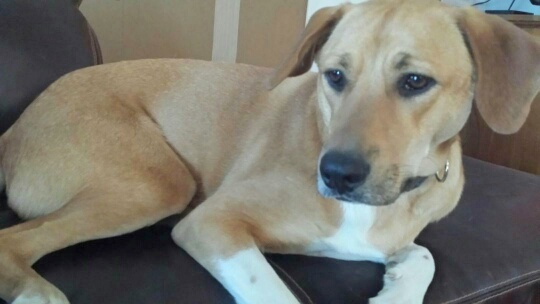 At 12 months old, Rocky still has lots of puppy energy and for best results will need a fenced yard so he can run and explore. Fortunately, his puppiness hasn't resulted in him chewing things up like some dogs do. Since he is not destructive and he IS potty trained he has earned free roaming privileges in his foster home when they are away.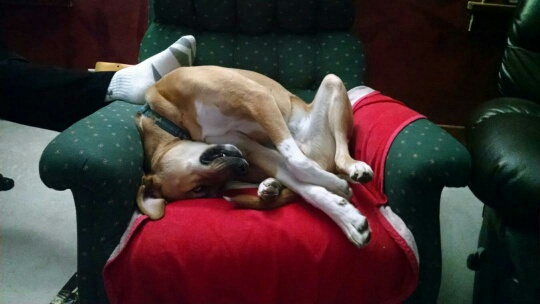 Is there anything wrong with this boy? Not really… Rocky spent some time in the Hounds of Hope training program so he knows much more than most dogs. What he needs is a little help with his confidence. We don't know his history so we don't know why he fears some dogs and people and reacts defensively. Because of this we are cautious with him and prefer he goes to a home without children. With time and the right approach we are confident that he will overcome this and be a great companion that thrives in a loving forever home, we have seen evidence of this in his foster home.
Are you the person for Rocky? Would you be able to give this boy the chance he deserves? If you just spend just 10 minutes with him in his foster world and you will see what a great dog he is!
To complete an adoption application for Rocky or any of his rescue friends, please visit our website, or call Deanna at 712-253-8394.
https://www.facebook.com/NoahsHopeAnimalRescue
Noah's Hope Animal Rescue is an all-volunteer, 501(c)3 nonprofit corporation. We rescue the underdogs: the old, the sick and injured, the used-up by breeders, the forsaken and misunderstood. We nurse them, bring them back from the brink, and give them another chance. We believe they make the very best pets because somehow, they understand and are grateful.