Pets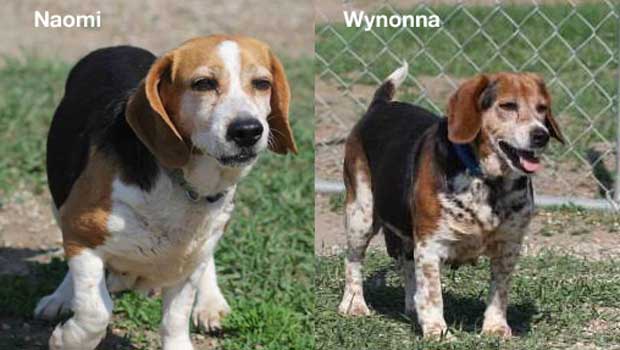 Published on August 5th, 2015 | by Noah's Hope -- Barbara Gross
0
Pet of the Week – Wynonna and Naomi
This week we are featuring a pair of female Beagles: Wynonna, 9 years old; and Naomi, 8 years old. They are both purebred Beagles and were used for breeding. They have come to Noah's Hope now that their breeding days are over. We think they deserve a nice retirement!
Wynonna is dog and cat friendly. She is still working on potty training because she had never been in a home before. She's learning. Her past is also the reason she is shy. She is learning that we just want to love her. Wynonna needs an understanding owner to help bring her out of her shell.
Much the same can be said for Naomi. Both girls are wonderful dogs. They just need a chance. Won't you think about taking one – or both – into your home? You will be rewarded ten times over for choosing a senior dog. With love and patience, they will become devoted companions.
Wynonna and Naomi are spayed, current on all vaccinations, and micro chipped. Our adoption fee for senior dogs is $85. You can apply to adopt them at our website, or call Deanna at 712-253-8394.
http://www.noahshopeanimalrescue.com/adopt/apply/

https://www.facebook.com/NoahsHopeAnimalRescue

http://www.noahshopeanimalrescue.com
Noah's Hope Animal Rescue is an all-volunteer, 501(c)3 nonprofit corporation. We rescue the underdogs: the old, the sick and injured, the used-up by breeders, the forsaken and misunderstood. We nurse them, bring them back from the brink, and give them another chance. We believe they make the very best pets because somehow, they understand and are grateful.