Pets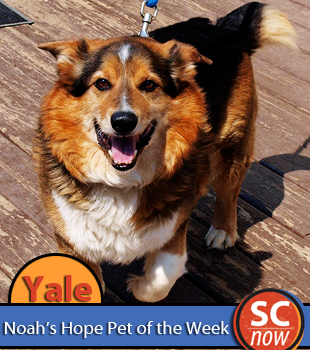 Published on April 8th, 2014 | by Sioux City Now
0
Pet of the Week – Yale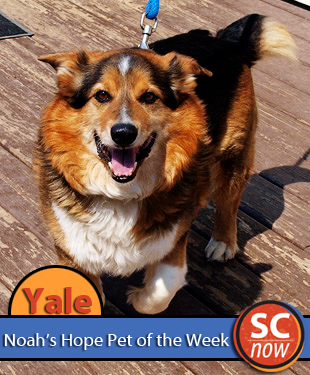 Yale is a Welsh Corgi, we're guessing about 8 years old. He was a stray in the Cherokee area when some kind-hearted people found him and sent him to Noah's Hope. He had not been neutered despite his age, and that was a first order of business. He also needed extensive dental work. Many of his teeth had to be pulled, but that's behind him now. He's ready to start the next chapter of his life without toothaches. He is perfectly happy eating a soft diet.
Yale is a friendly little guy who is easy going and loves people. He is house trained and has free roam of his foster home without any problems. He sleeps on a dog bed in the master bedroom. He does not jump on people or the furniture. After several days in his new foster home, his foster mom reports that she has yet to hear him bark.
Yale gets along well with the other dogs and cats in the house. There is one exception to this statement: Yale gets possessive. When he first met the other dogs, he fell in love with an old chocolate lab named Sam. He will not leave Sam's side. If either of the other two dogs tries to get next to Sam, Yale will growl at them. Nothing serious – just a little warning telling them to stay away from his buddy Sam. It is the strangest thing. If Yale is adopted by a family with multiple dogs, we will want to make sure he gets along with everyone.
Yale is ready to come home with you. He has many good years left to be your pal. If you want to welcome this wonderful little guy into your home, please call Deanna at 712-253-8394. Or visit our Facebook page or website for more information:
https://www.facebook.com/NoahsHopeAnimalRescue
Noah's Hope Animal Rescue is an all-volunteer, 501(c)3 nonprofit corporation. We rescue the underdogs: the old, the sick and injured, the used-up by breeders, the forsaken and misunderstood. We nurse them, bring them back from the brink, and give them another chance. We believe they make the very best pets because somehow, they understand and are grateful.