Pets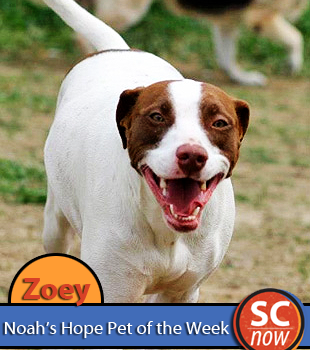 Published on February 25th, 2014 | by Sioux City Now
0
Pet of the Week – Zoey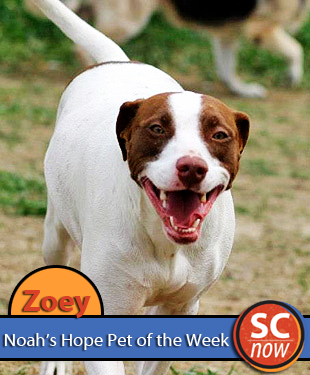 Noah's Hope Animal Rescue and Sioux City Now bring you this week's Pet of the Week – Zoey.
Who can resist a dog with an ear-to-ear grin? That's our Zoey. She smiles all the time even though her family surrendered her because they had too many animals for their hectic lives. They couldn't give her the attention she deserved. They called Noah's Hope Animal Rescue.
Zoey is a Pointer/Spaniel mix, which makes her a very energetic, athletic dog. She dearly loves to run and would make an ideal companion for a person who runs. She could keep up with a marathoner. In the play yard, Zoey gets along with most other dogs. She tends to be a diva (dominant) and needs to be introduced slowly to another dominant dog, but she has had very few problems living at her foster home with many other dogs of all kinds. She's very sweet with people.
This girl learned to be possessive of food and toys in her previous home, a habit that will need to be broken with training. She will also need a yard with a solid, high fence. She can climb chain link, and a four-foot fence isn't even a challenge for her Olympic-class jumping.
Zoey is spayed, fully vetted, and ready to come home with you. If you want to adopt this very special dog, please call Deanna at 712-253-8394. Or visit our Facebook page or website for more information:
https://www.facebook.com/NoahsHopeAnimalRescue
www.noahshomeanimalrescue.com
Noah's Hope Animal Rescue is an all-volunteer, 501(c)3 nonprofit corporation. We rescue the underdogs: the old, the sick and injured, the used-up by breeders, the forsaken and misunderstood. We nurse them, bring them back from the brink, and give them another chance. We believe they make the very best pets because somehow, they understand and are grateful.