A&E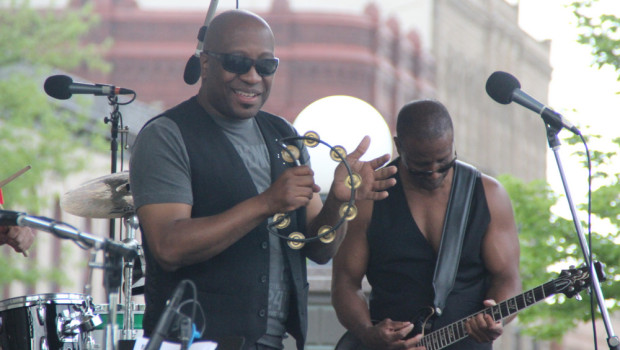 Published on May 29th, 2013 | by Sioux City Now
0
Photos: Fridays on the Promenade has a rocking start
Sioux City's Fridays on the Promenade concert series officially kicked off May 24 with the music of Rico, a Chicago blues and rock band who wowed a crowd of more than 200 music lovers.
The opening band for the summer concert series was loud, with keyboards, guitars and tambourine bangs filling every corner of free air in downtown Sioux City. The band played its own music, and then dove headlong into favorites by Santana, who has been a huge inspiration to this Windy City gang of seven, and other popular rock and reggae mainstays.
When all was said and done, the night was gorgeous, considering that the forecast called for rain. No wayword drops could slow Rico's jam, and the crowd was eventually on its feet dancing and clapping as the band played under looming grey clouds.
The event took on a new setup this year as well. The new arrangement keeps Historic 4th Street open and instead closes Virginia Street, where the stage faces south toward 3rd Street.
There was food, courtesy of the Sproutstream,  and cold beer, too, but for the most part the crowd was interesting in catching up with friends, and namely in the music.
The concert series continues each Friday through July 12, and admission is just $3 to get in.
Fridays on the Promenade 2013 schedule:
May 31 – Jim Suhler & Monkey Beat
June 7 – Peter Karp & Sue Foley
June 21 – Dustin Pittsley Band
June 28 – The Steepwater Band
July 5 – Lisa Haley & the Zydekats
July 12 – West of Aldine