A&E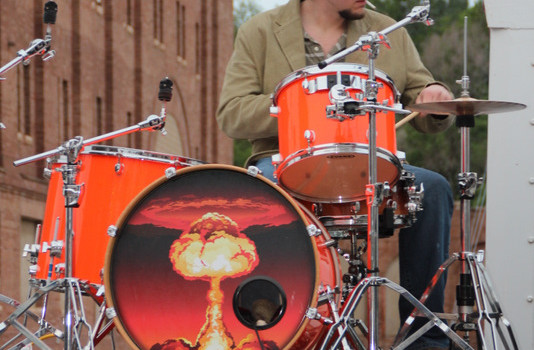 Published on June 3rd, 2013 | by Sioux City Now
0
Photos: Human Fest offers local rock on 4th Street
Music, drinking and friends – three things that make any event fun. These three things helped hit off Human Fest and the month of June at The Syd bar. The Syd is located at the north end of 4th Street in Sioux City and hosted Human Fest on June 1, 2013 from 6 pm to 2 am.
The concept of Human Fest was envisioned by Matt Church, a member of Ghosts of Guyana. Church's goal was to bring local bands together for an evening full of festivities directed towards the younger generations of Sioux City. Christy Frisch, owner of The Syd, and her daughter Sara helped create the block party atmosphere by providing the location for the festival.
With the street closed off and a semi trailer for the stage, the bands provided hours of music. The Sproutstream, a local food vendor was there to keep the crowd fed and another bar provided burgers and hot dogs as well. The crowd of family, friends, and fans enjoyed the music and drinking all night, even in the cold and misty weather.
The Syd has been a part of Sioux City for 29 years and is home to many local bands. Frisch said Ghost of Guyana plays at least once a month at The Syd. The other bands at Human Fest included: Two Inch Tiger, Omniscent Troubadours, Evil Deuxerz, Love Grove, Cheers, The Gateway Drug, and DJ Bowlz.