Community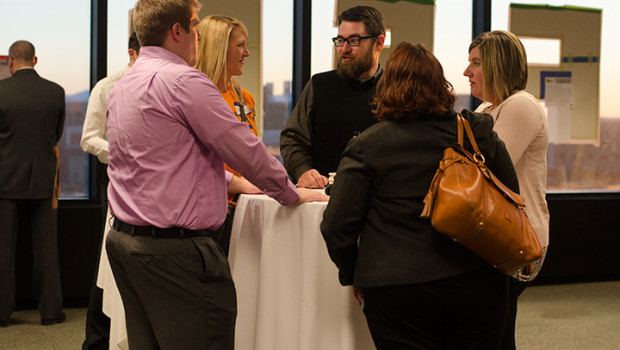 Published on February 26th, 2015 | by Thomas Ritchie
0
Photos: Innovation Market offers night of ideas, inspiration
This year's Innovation Market, sponsored by the Sioux City Growth Organization, proved to be as competitive as ever, with dozens of great startup business ideas.
The annual event, which celebrates entrepreneurism in the region, is aimed at letting the community identify great business ideas worthy of cash and other prizes. More than 120 people attended this year's events, which were part of the annual Entrepalooza event, with events held across Sioux City.
The winners walk away with money to start or jumpstart their business, as well as professional assistance and office space.
Last year's winner was RXA Technology, which created the app Pushlee, aimed at gas station owners who want to improve in-store food purchases.
Ideas this year included an innovative women's bracelet concept, restaurants, apps, a nutrition bar and websites, among many others.
But at its core, the night helps serve another purpose: bringing together young professionals, creative people, business leaders and the community to help identify great ideas. Many previous winners have gone on to build successful companies.
This years's winners were: Jackson Brewery, Siouxland actors resource (website), Frankfurt Friars (restaurant), B2Box (Siouxland-themed gift box) and Backside billboards, a hitch-attached mini billboard.
All the creators will go before a panel of judges in the next month to decide which two deserve final awards.
The event includes a number of entrepreneurial speakers, and this year included Brian Gramm, owner of Peppermint Energy, and Andrew Tomes, brand manager for Templeton Rye, as well as Bart Connelly, a Sioux City developer, who all offered words of inspiration for young business owners and startups.
Startup Sioux City held an afterparty at Springboard Coworking, closing down the night with Templeton Rye mixed drinks, games and networking.
Here are pictures by Sioux City photographer Erika Eveleth from the event, and photos of the after party by Thomas Ritchie.