Community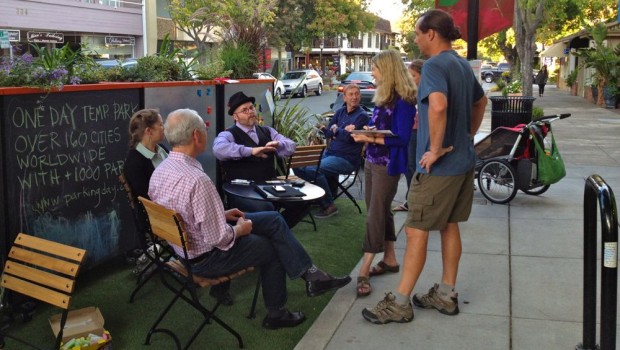 Published on June 26th, 2015 | by Thomas Ritchie
1
Project brings mini green spaces, bike lane to downtown
Downtown Sioux City is about to get a little more green, thanks to a pilot program that will bring micro-sized parks (like the one above in Los Altos, Calif.) to parking spots. Additionally, bike lanes will be installed along the east side of Nebraska Street.
The features will be integrated for 10 days only, starting Saturday. The goal is to show the community what it could look and feel like to have more usable, greener spaces (including outdoor seating) added permanently along the streets in downtown.
The project is mirrored after a worldwide effort called "Better Block" and complements the city's efforts to show the potential to create a walkable, vibrant, neighborhood center. Often times many of the temporary improvements are adopted and become permanent enhancements in communities, said Ragen Cote, executive director of Downtown Partners.
"By creating green spaces and bike lanes on otherwise empty concrete, we get to see and feel how to better increase usable, walkable spaces in downtown," Cote said.
"In doing this over the holiday weekend, there are more people and events in downtown to allow more people to experience the project. We are encouraging the community to use the spaces, to sit, read, relax, gather, and share their thoughts. Be creative with the space!," Cote said.
The project will be set up on Nebraska Street in Downtown Sioux City. It was chosen because of its street width and the right combination of small businesses and public spaces. Starting north of 3rd Street and extending to 6th Street, the bike lane will be designated on the east side of the street with green space seating areas showcased at each corner.
Nebraska Street will be two lanes of one-way northbound traffic throughout the project, which ends July 6, and will return to three lanes once the designs are removed.
The project came about because downtown leaders recognized the need for additional green space and enhanced walkability features that were identified by the IEDC Downtown Study and Blue Zones Project.
Ideas to address this need were generated by members of the Downtown Partners Livability and Transportation task forces and then the concept was presented to the City of Sioux City. The project is designed to be temporary in order to witness how the spaces are utilized and best work out how to move forward with future, more permanent projects.
Project costs were minimized with the generosity and time of the Earl May Garden Center, Knife River, Dakota Traffic, City of Sioux City, Downtown Partners board and task force members and numerous area businesses.
The community is invited to use the spaces for seating, dining, working, visiting, shopping, music, art and more. Even if you just drive or walk by, your feedback and interaction with this project is very important and will make a difference, said city and downtown leaders.
Want to share your experience on social media? Use the hashtag #betterblocksc.
You also can help by completing the survey, found at www.downtownsiouxcity.com, and on signs along the project route. You can also provide input, send in photos, ask questions and get more information by contacting Downtown Partners on Facebook under Downtown Partners – Sioux City, call (712) 252-0014 or email administration@downtownsiouxcity.com.
Interact
What would you do if you could create your own mini park downtown? Add your comments below and we'll share them in a future story.