Food & Drink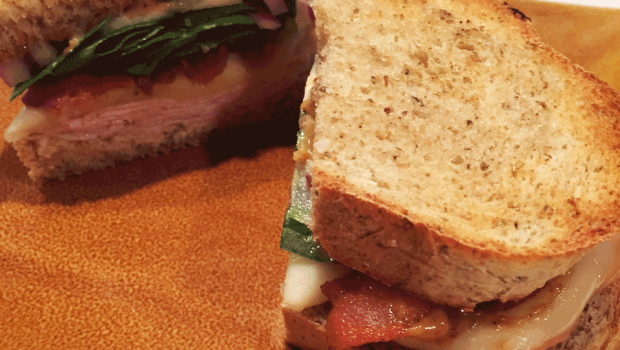 Published on October 1st, 2015 | by Thomas Ritchie
0
Sage Onion bread from Dakota Earth makes this sandwich awesome
When it comes to sandwiches, sometimes it's all about the bread.
Such is the case with many of the fresh breads I've picked up this summer at the Sioux City's Farmer's Market.
One spectacular sandwich we made recently was concocted from a sage onion loaf from the folks at Dakota Earth, a regular Farmer's Market vendor who sells breads, artisan pasta and fresh pastries.
So what's so special about the sage onion? First, the sage adds a savory note to the sandwich that really carries the flavor. And, of course, the onion adds a fresh and flavorful finish to each bite. The pair proved to be the perfect start to a loaded lunchtime meal.
Here's what we did, and I recommend you grab a loaf of this or any fresh offering from a market vendor and make up something special for lunch this week.
We started by sautéing some bacon. After it was cooked, we drained off the fat and let the bacon sit.
My wife grabbed a basic brown mustard and some raspberry jam and a few dried cranberries then blended them in a blender until they were spreadable. There's no perfect mixture here – add ingredients until the taste meets your preference. Start with two tablespoons of mustard and a tablespoon each of the jam and dried cranberries and go from there. Either way, this spread will be the main condiment for your sandwich, so make sure it's to your liking.
Next we sliced the bread to a medium thickness for a sandwich, and toasted it. After a healthy spread with the raspberry mustard, we layered on the turkey double deep on one slice and mozzarella on the other, then placed it under the broiler. Mmm.
Once the cheese was melted and the turkey was hot, we pulled the two halves out, topped them with 2 slices of bacon, fresh spinach and red onion, then crunched it all into a sandwich fit for a … well, a sandwich lover.
In the name of complete transparency, I should mention that my wife works at Dakota Earth. Her employment has no bearing on my love of their bread, but it does, occasionally, mean I get a surprise loaf that wasn't sold that day at market.
Either way, this and other farmer's market breads are a great way to start the perfect sandwich. Pick one up and create your own today.
And send me a picture if you do – I'd love to know what you create.