Art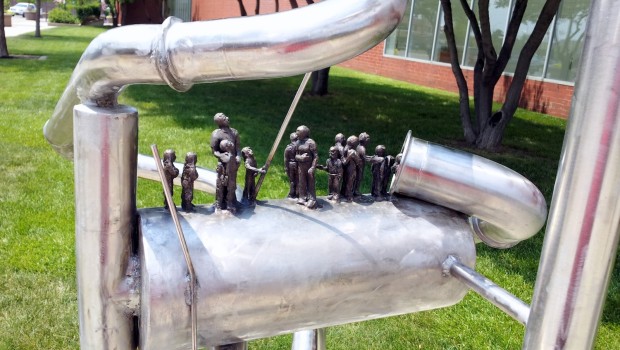 Published on May 27th, 2015 | by Sioux City Now
0
Sculpt Siouxland Announces Opening Fundraising Event
The 10th Annual Sculpt Siouxland Celebration is set for 5:30- 8:00 p.m. Thursday, June 4 at the Sioux City Art Center.
Held each year to honor the completion of the year-long Sculpt Siouxland exhibition while celebrating the beginning of a new outdoor sculpture exhibition, the event offers a chance to mingle with the artists and friends while listening to live music.
The evening concludes with a live auction of the sculptures from the outgoing exhibition, as well as smaller works by the sculptors. Tickets for this event are $30 which includes hors d'oeuvres and drinks. Tickets may be purchased at the Sioux City Art Center or at the door.
"We are thrilled to commemorate our tenth year of bringing public art to the attention of the Siouxland community and its visitors,' said Luis Trejo, President of Sculpt Siouxland.
With the support of the community and a partnership with the Art Center, Sculpt Siouxland has been able to focus on increasing the size of its collection and the development of Sculpt Park along Pierce Street.
"The 2015-2016 exhibition promises to engage visitors downtown. We are excited that so many of these sculptures are remaining in Sioux City permanently," said Art Center Director, Al Harris-Fernandez.
The sculptures are located along 3rd and 4th Streets from the Convention Center to Douglas Street, and on the campus of the Art Center at 225 Nebraska St. Sculpt Siouxland members conduct tours of the exhibition that begin at the Art Center on special dates throughout the year and as requests are received. Members of the public will be encouraged to vote for a People's Choice Award winner; the winning artist receives a cash award.
Proceeds from the annual Sculpt Siouxland Celebration and the sales of sculptures help Sculpt Siouxland bring in quality sculptures for the exhibition and help fund additions to the permanent collection. Sculpt Siouxland is also sponsored by the Gilchrist Foundation and a long list of Sioux City businesses, which are committed to enhancing the downtown's vitality.
To purchase tickets, call the Sioux City Art Center at 712-279-6272, extension 200.