Food & Drink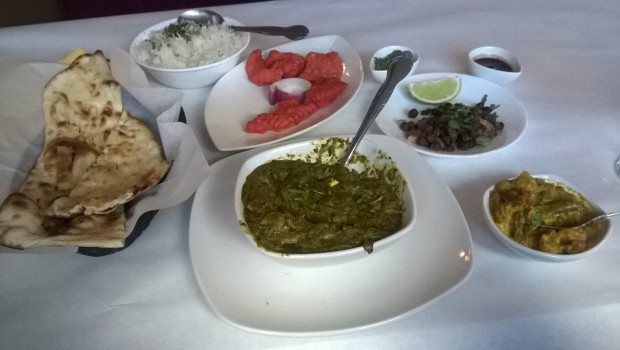 Published on March 28th, 2016 | by Ivy Sweet
0
Shahi Palace's Pakora and cheese were delicious, filling
Fish and homemade cheese might be the king and queen of Shahi Palace.
With a menu full of foods that I could barely pronounce, I had no idea what to order at Sioux City's little slice of India. As what I assume was traditional Indian pop music played pleasantly overhead, I perused the descriptions of Shahi Palace's delicacies.
What stuck out to me were words like "fish" and "cheese," which I knew were foods that I liked to eat. So I ordered Fish Pakora for an appetizer and Palak Paneer for a main course.
The Fish Pakora was easily my favorite part of the meal. Described in the menu as "seasonal fish, deep fried in chickpea batter," the appetizer was presented to me in six vibrant red pieces arranged around a slice of onion.
Having never eaten red fish before, I was a little bit wary. However, once I bit into a piece and tasted that crispy deep fried fish flavor, I was won over. The taste reminded me of fish sticks, only it felt more elevated and fresh than something you would buy at Hy-Vee.
The fish was even better when dipped in the brown sauce that accompanied the appetizer, which I can only describe as an Indian take on barbecue sauce. Whatever it was, it made that deep fried fish delicious.
The main course, complementing the vibrant red appetizer, was very green. Described as "spinach and homemade cheese cooked in light cream sauce and herbs," the Palak Paneer was served in a square bowl and appeared to be a mushy green substance with herbs sprinkled on top.
I was relieved to find that it tasted better than it looked.
It's hard to describe the taste of cheese mixed with spinach; the underlying shadow of cheese taste complements the flavor of the spinach in such a way that the spinach taste is less harsh – which makes me feel that even those who are not fans of spinach might enjoy this dish. That is, if they are fans of cheese – which I am, very much.
A meal at Shahi Palace is apparently accompanied by multiple side dishes – so in addition to my Fish Pakora and Palak Paneer (which were more than enough for me to eat on their own), I was also presented with a bowl of white rice with herbs sprinkled on top for flavoring; a small bowl of vegetables covered in a yellow sauce; a small plate of little sour balls that were neither berries nor meat; and Naan, a traditional white flour bread.
After tearing off a piece of the Naan and sampling it on its own, I discovered that using pieces of Naan in place of my spoon was the best way to eat the Palak Paneer. Scooping up Palak Paneer and eating it off of the Naan added flavor to the plain white bread, while also complementing the spinach and cheese. This was definitely a good decision on my part.
With the Fish Pakora at $5 and the Palak Paneer at $6.99, and the amount of food served being enough for three meals for me, I could easily order one without the other and still have a fulfilling – and affordable – lunch. The Palak Paneer filled me up so quickly that I took half of my fish and Naan home and barely touched my rice.
All in all, this Indian meal was an adventure – and one that I would recommend.