Community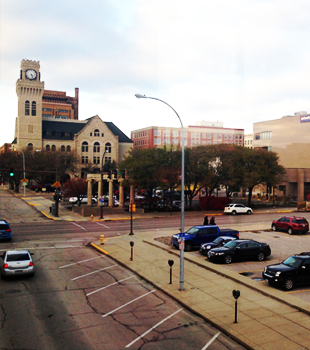 Published on January 31st, 2014 | by Nakia Tyler
1
Sioux City Adventures: 5 Reasons The Skywalk is Awesome (& 1 Reason Why it's Not)
Before I started working in an office Downtown, I hadn't spent much time in this area of Sioux City, and my impression of it pretty much boiled down to three things:
Crazy one-way streets, ruthless parking enforcement, and lots of bars.
Over the past several months, I've come to realize that Downtown Sioux City has a lot of really cool things to offer, and I happened to stumble upon one of the coolest by accident.
I was walking from our office on 7th and Douglas to Springboard Coworking which is located in the Stifel Nicolaus building on 4th Street. It was a bit colder than I had anticipated it being, and I only made it a block before my teeth started to chatter.
By the next block, I was tempted to turn back for my car, but then, as I passed River's Landing Parking Ramp I saw a sign that would change my life. It said: Skywalk Entrance.
I feel like I need to pause here and let you all know that, not only am I irrationally afraid to try new things, I'm also cursed with a horrible sense of direction. Naturally, I hesitated before going inside.
I imagined myself getting trapped somewhere in the Skywalk, unable to find my way out, left with no other option than standing above one of those crazy one-way streets and making a fool out of myself until someone noticed and sent help.
Clearly the cold was seeping into my brain, because despite the potentially disastrous consequences, I stepped inside the parking ramp and took the elevator up to the Skywalk level, and began my adventure.
It was seriously the most awesome thing ever. Let me tell you 5 reasons why the Skywalk is awesome (and 1 reason why it isn't).
#1: It's well mapped out.
I'm not lying when I say that I get lost easily, but the Skywalk is mapped out really well, and there are signs everywhere, letting you know where you are and where you can go from there. There are maps on the walls, and signs above all of the doors as you pass from one area to another. If I can navigate my way around there, than anyone can.
#2: It was warm.
What can I say? I'm easily impressed when it comes to temperature control. I know the Skywalk has been around for a long, long time, but it still seemed so futuristic to me, being able to walk the streets of Downtown Sioux City from the comfort of heated hallways.
#3: A new perspective.
Even though I've been spending a lot of time Downtown lately, most of it is spent either frantically dodging traffic or nervously double checking for one-way signs at every intersection. This journey in the Skywalk gave me a chance to mosey along, safe and sound, above all of the hustle and bustle. It gave me a new sense of appreciation for all of the things we have going on in Sioux City.
#4: The Sioux City Public Museum.
The particular route that I took gave me an aerial view of the front section of The Sioux City Public Museum. I've been there before, but this made me want to go again.
#5: Neat murals.
As I walked along the Skywalk, I noticed that some of the walls were decorated with really neat murals, one of which was associated with Iowa State University. The other was done by Innovation Market. Both of them made the walk much more pleasant.
#6: Ceiling mirrors.
I'll admit that they freaked me out at first, but once I got used to them, the angled mirrors on the ceilings were actually helpful. It was nice to confirm how cool I looked, strutting my stuff and jamming out to Haim in my earbuds.
So, the Skywalk is full of awesomeness, but there was one thing – one little, tiny thing – that is not so awesome.
I no longer have an excuse not to walk for the rest of winter.
Have you ever used the Skywalk to get around Downtown? What do you like about it? Feel free to share in the comments below!
Oh, and while you're at it, do you have any ideas for future Sioux City Adventures? I'm willing to try anything, so long as it isn't dangerous, illegal, or harmful to myself and others.
Nakia Tyler is the Junior Firestarter at Team Creative Fire. When she isn't exercising her creative muscle, she spends her time fan-girling over Doctor Who, playing with her adorable niece, and chowing on vegan food. If you see her out and about having adventures, feel free to say hi. She'll probably be wearing pink.