Movie Reviews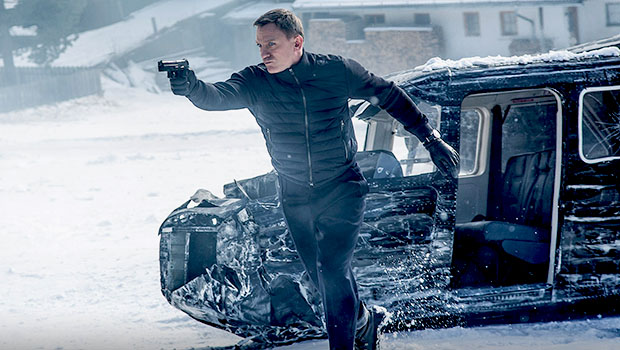 Published on November 12th, 2015 | by Leslie Erickson
0
'Spectre' finds balance between action and story
"Welcome, James. It's been a long time . . . and, finally, here we are."
– Oberhauser
Spectre
Director: Sam Mendes
Writers: John Logan, Neal Purvis, Robert Wade, Jez Butterworth (screenplay); Ian Flemming (characters)
Stars: Daniel Craig, Christoph Waltz, Léa Seydoux, Ralph Fiennes, Ben Whishaw, Naomie Harris, Monica Bellucci, Andrew Scott
IMDB Link: http://www.imdb.com/title/tt2379713/?ref_=nv_sr_1
★★★ 1/2
Going to see and reviewing the new James Bond movie seemed real chore for a cinephile who prefers literary and multi-layered films, but it seemed a necessary evil with it being a sure-to-be blockbuster. Not that I can't enjoy a good action or adventure film; I just prefer to write about films that move me on some level. And while Spectre, Daniel Craig's fourth run at being 007, was not a literary masterpiece, it was a fun, action-packed two-and-a-half hours of adventure.
One of the biggest advantages – and handicaps – a franchise such as 007 has is its built-in audience. Like the Mission Impossible films and the Fast and Furious series, there are fans who won't miss an installment. This often leads to formulaic and lazy scriptwriting and storytelling; it prompts films to focus on the expected explosions, collisions, car chases, and other over-the-top action. Employing ever-evolving and improving special effects to impress audiences and eschewing character development to rely on characters who are familiar and predictable, there is often little new or fresh in these films. But the loyal fan-base will still shell out the big bucks to see their favorites on the big screen.
However, unlike some major disappointments lately, Spectre doesn't simply rely on the loyalty of its fan base and does bring a satisfying amount of fresh story, quality direction, and convincing performances to the screen.
The story, although a little weakly developed, has Bond begin by foiling a mass-murder plot in Mexico and then beginning a quest for the brains behind that attack and similar attacks in locations around the world. He is handicapped by a reorganization and liquidation of the 00 program and MI6, but with his loyal cadre – Moneypenny, Q, and M – he perseveres and succeeds as always.
This is the second Bond film Sam Mendes directs, and he strikes a good balance between the requisite action and actual storytelling. Instead of falling into the trap of non-stop stunts and over-the-top special effects, he situates the action among scenes that move the plot along. Of course this doesn't prevent some pretty unrealistic events, like Bond surfing down a collapsing building or a fight taking place on a still-flying, spinning, and rolling helicopter, but those are tempered with more realistic interaction between the characters. This attention to the plot moves the film along at a good pace, allowing the audience to stay engaged with and interested in Bond and his escapades.
Daniel Craig, in this, his fourth incarnation as Bond, is still believable and fun to watch as the film's hero at 47 years old. Craig has said he trains for months to be in prime physical shape and performs many of his own stunts for the films. He's also been quoted as saying he's finished with the role and would rather "stick needles in his eyes" than play 007 again, but he has recently waffled some on that stance. As an audience member, it's easy to imagine him meeting those physical expectations in another film or two, but this equal opportunity can't be said for his female co-stars.
Craig's age, as with all past Bonds, doesn't seem to influence the age of his female sexual interests, the celebrated "Bond girls." This is a long-standing trend in Hollywood; as hilariously satirized in a NSFW skit by Amy Schumer, women are sexually desirable only when they are young and they age out of those kinds of roles early.  However, for just a minute it seems the film will break out of that casting stereotype. Spectre teases its audience with one of the film's first sexual liaisons as Bond pursues and beds the wife of a murdered assassin.  Italian actor Monica Belluci, at 51, is the oldest Bond love interest in the history of the franchise, and it is refreshing to see the character with a similarly-aged sexual partner. However, succumbing to those Hollywood standards set decades ago, Bond ends up with the much younger daughter of an old nemesis, played by French actor Léa Seydoux.
The rest of the supporting cast includes the always-excellent Christoph Waltz, Ralph Fiennes, and Andrew Scott. Waltz is creepy and convincing as the mastermind behind all the tragedy in Bond's life, on screen and off, and Fiennes steps effectively into Judy Dench's big shoes in the role of M. Scott, best known perhaps for his BBC role as Sherlock's Moriarty, conveys the same evil manipulative type of character he plays there.
This ensemble of quality supporting actors, a seasoned and likeable star, and a director who strikes a good balance between action and story, add up to a fun movie-going experience. While you won't find anything exceptionally new or ground-breaking in this latest installment featuring film's most beloved assassin, you won't be disappointed.
Spectre is playing at the Sioux City Promenade Theatre. Click here for showtimes.
View the official trailer below:
—
Listen to Leslie read her reviews: Movies With Leslie on KWIT.