Food & Drink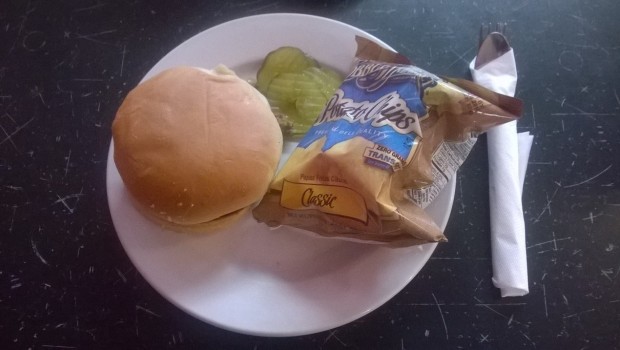 Published on January 26th, 2016 | by Ivy Sweet
0
The Donnie Girl sandwich at Madonna Rose is a messy affair
Donnie Girl is more of a lady than Sloppy Joe.
That's how I felt when I tried this signature meal during my first visit to Madonna Rose Café on Morningside Avenue.
As I perused the lunch menu, I found my eye drawn to the Donnie Girl. "Madonna's secret tavern" was written in parentheses underneath the name of the meal, and being the curious person that I am, I wanted to uncover Madonna's secret.
The Donnie Girl is a loose-meat sandwich served with a bag of potato chips and four slices of pickle on the side, which I promptly stuffed underneath my top bun – can't eat it without pickles. I'm pretty sure the lunch delight was all ground beef, but I'm not completely sure – it is supposed to be a secret, after all. Either way, it tasted homemade.
One little known fact about the loose-meat sandwich, first called a Tavern sandwich: it originated at Ye Olde Tavern in Sioux City in 1934.  Thus, I'd expect any new Sioux City loose meat concoction to stand up to our town's legacy, and the Donnie Girl does just that.
There were two main things I noticed about the Donnie Girl:
The first thing was that it was delicious – the meat was cooked well and dousing the burger in ketchup and tomato basil soup (which was a separate side order) really added to the flavor. I scarfed that thing down and wished I wasn't full at the end so that I could have ordered another one.
The second thing was that it was very messy. I started off holding the burger up to my mouth to take bites, but the meat kept falling out the back of it. I used the potato chips to scoop up the fallen chunks of meat and took a knife and fork to it after a few failed attempts at holding the burger with my hands. This actually proved to be equally messy falling-apart-wise, but at least I didn't get the meat all over my fingers.
I found that the burger got easier to hold the further I got into it. This was probably because I ate the meat faster than the bun due to some of the meat falling out, though.
Fans of the sloppy joe would undoubtedly enjoy the Donnie Girl. Even if you are not a fan of sloppy food, I would still recommend this one. The flavor is just too good to pass up, and the burger could always be taken apart and eaten like a plate of chili rather than a sandwich.
Ordering a soup as a side dish and dipping the bun in it is also a delicious idea, though the burger is good enough by itself that this is definitely not required.
And getting a full meal for only $4.50 is not too bad, either. I will definitely be back again.