Theatre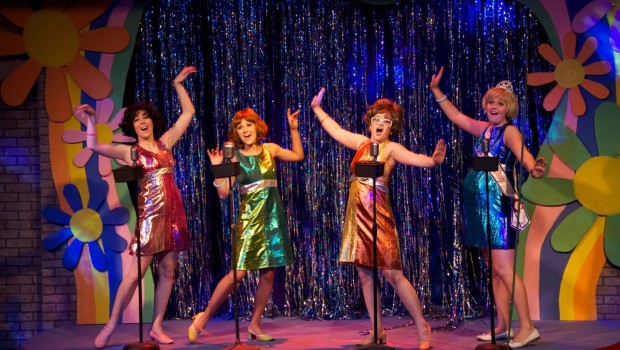 Published on June 23rd, 2015 | by Dylan Myers
0
LAMB's 'Wonderettes' is a musical, comic delight
LAMB theater has given this community a wonderful variety of live entertainment throughout the years. It's a great way for anyone to get involved with the arts and their productions are a fun way to spend an evening.
This month LAMB, at 417 Market St., is putting on nine productions of the hit "The Marvelous Wonderettes." Last weekend I attended a performance and was impressed with the wealth of singing, laughs and fun this show brings to the stage.
Once the lights dim and the show starts, you're no longer just a member of the audience. You're now packed into the Springfield gym with your peers and prom night has just started.
The men's Glee club was supposed to be tonight's entertainment, but lead singer Billy Ray was suspended for smoking tobacco. Instead, tonight's wild and hysterical entertainment will be provided by last-minute fill-ins Missy, Suzy, Cindy and Betty of The Marvelous Wonderettes.
The show, which uses pop songs from the '50s and '60s as a vehicle to tell its story, pays homage to the high school Songleader squads of the 1950s.
In four-part harmony, the foursome will entertain through the evening. Betty Jean is played by Rogan Luse, Cindy Lou is portrayed by Alyssa Collett, Missy by Grace Beumler and Suzy by Josie Kasik.
Classic love songs from the 1950's such as "Mr.Sandman" and "Dream Lover" guide these ladies through their night filled with teenaged dreams, love and surprises. Each number teaches you a little something about the characters and also serenades us as the plot unfolds. This was my favorite aspect of the production as it brought life to each song. Other hits in the show included "It's My Party," "Lollipop" and "Stupid Cupid," among many others.
The acting from these talented young ladies is great and their singing voices are even better. Their voices blend well in a group, but their solo performances really showcase each of their individual voices.
But it's not all music. The show also is filled with comical moments and the Wonderettes do a superb job of timing each joke to maximize laughs.
The Marvelous Wonderettes shows June 24-27 at 7 pm. Tickets are $23 for adults, $18 for seniors and $13 for students. Box office hours are from 2-5 pm Monday through Friday. For more information about tickets or performance you can call the box office at 712-255-9536.