Community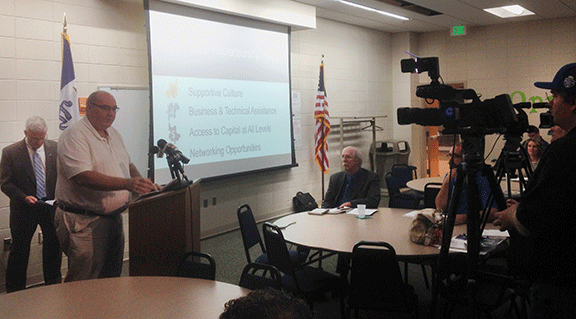 Published on October 7th, 2014 | by Sioux City Now
0
UNI to Launch Regional Entrepreneurship Project in Western Iowa
Reprinted with permission from StartupSiouxCity.com.
The University of Northern Iowa's Business & Community Services (BCS) will collaborate with regional economic development groups in Iowa's Monona, Plymouth and Woodbury counties to launch a new initiative to support and encourage entrepreneurship and start-up businesses. The Regional Entrepreneurship Project is provided through a grant to UNI as part of the US Economic Development Administration (EDA) University Center Program.
A number of economic development groups in the three-county area are assisting UNI to organize this initiative, which was announced at Western Iowa Tech on Tuesday, Oct. 7.
This collaboration includes the LeMars Area Chamber of Commerce, the City of Sioux City Economic Development Dept., The Siouxland Initiative, the Woodbury County Dept. of Rural Economic Development, the Monona County Economic Development Partnership, Western Iowa Power Cooperative, Siouxland Interstate Metropolitan Planning Council and other service providers from across the region.
"The goal of this project is to build upon the interest and passion for entrepreneurship already apparent in the region. The process will develop a shared focus and direction to encourage and support existing small businesses and new start-ups," said LaDene Bowen, Director of the UNI-EDA University Center.
The UNI-EDA University Center's Regional Entrepreneurship Project will work with regional leaders interested in growing more start-up businesses and enhancing the region's efforts to foster supportive culture, business and technical assistance, networking and access to capital for entrepreneurship.
"With the assistance of the University of Northern Iowa's Business and Community Services; we have the opportunity to build upon the existing network of service providers currently in place for entrepreneurs in this region," said Neal Adler, Director for the LeMars Area Chamber of Commerce. "The more our various organizations work regionally in a cooperative fashion; the more effective we will be in promoting and supporting continued growth."
Teresa Miller, Executive Director for Monona County Economic Development added, "This is an exciting time for entrepreneurs in our region. They will have a variety of resources upon which to draw for successful business ventures. It's a win for us all, since entrepreneurs bring vitality and passion to their communities' business mix!"
"Entrepreneurial development and encouraging startup businesses to stay and grow in our communities is crucial to our region's growth," said Sioux City Mayor, Bob Scott. "We are eager to work with our regional partners to expand our outreach and build on the resources we currently have in place to support our local entrepreneurs."
"We're excited to take part in this extraordinary opportunity with the University of Northern Iowa and the other economic development organizations in our region," added Woodbury County Board of Supervisors Chair, George Boykin. "Entrepreneurs and small businesses are the backbone of our country; this program will help to ensure their success in our region and strengthen our local economies."
UNI's Business and Community Services has recently been designated as an EDA University Center and charged with assisting Iowa communities in developing and implementing strategic plans to address this challenge. Monona, Plymouth and Woodbury Counties are the third region to be selected for the Regional Entrepreneurship Project, which focuses on enhancing the support system for entrepreneurship development in six Iowa regions over a five-year period.
UNI awards regions based on factors including economic distress, recent layoffs and plant closures, regional workforce interdependence and the economic development community's commitment to entrepreneurship as a key economic strategy. Region III joins Adair, Audubon, Greene and Guthrie Counties (Region I) and Hamilton and Wright Counties (Region II). Each region undertakes a four-phase effort that includes an entrepreneurial assessment of the region, educating regional stakeholders on best practices to cultivate an entrepreneurial support system, the development and implementation of a strategic plan based upon service provider and entrepreneur input, and continued support.
For more information on the Regional Entrepreneurship Project or the UNI-EDA University Center please contact LaDene Bowen at 319-273-2969 or ladene.bowen@uni.edu.