Community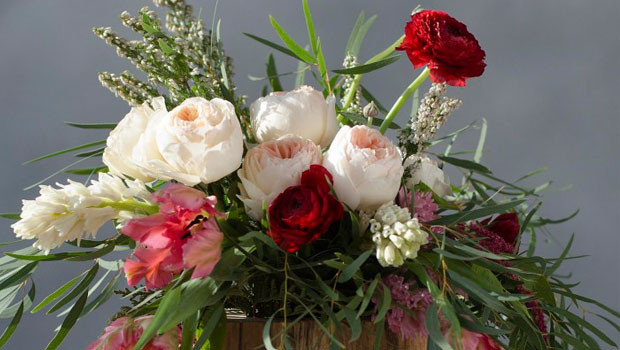 Published on February 12th, 2015 | by Thomas Ritchie
0
Valentine's Day gifts with a Sioux City twist
Looking for the perfect Valentine's gift that also has a local connection?
Perfect, then we have you covered with ideas for flowers and chocolate (what more does she need). And for you guys – well, we've got a few ideas there, too.
Flowers and art
First, why not start with a a gift that's part nature, part art and all local. That's exactly what Mercedes Ivener is doing at Honeysuckle Hollow Florist.
"Supporting local artisans and retailers is the essence of being part of a community," Ivener said. "Knowing where your food, goods, and products come from enhances the whole buying experience. It makes you appreciate your goods and the people that make them. It allows us to connect on the human level with our goods."
With that idea in mind, Ivener created something truly unique just in time for Valentine's Day – locally-sourced flower bouquets placed in a handmade wooden vase created by local artist Ken Peterson.
"I describe my arranging style as 'nature-inspired floral design.' If wooden-vases don't fit that, I don't know what does," she said. "I always try to use interesting, artistic, or vintage vessels to arrange my flowers in because I think it adds to a special arrangement."
Furthermore, Ivener said, she wants to create work that is memorable. "I think so many of the Valentine's Day Flowers today lack artistic and natural beauty. They seem rigid, scentless, and cookie cutter and are always in boring vases. Our Artisan Valentine's Day Sale is anything but that!"
The Honeysuckle Hollow sale is Friday and Saturday from 11 a.m. – .7 p.m. at 3535 Singing Hills Blvd. Find more info at www.facebook.com/HoneysuckleHollowFlorist .
Chocolate
There's no better way to say I love you than chocolates, right? If that's you, or your spouse for that matter, then Palmer Candy is the place to be.
It's easy to make a custom gift at Palmers. Start with a couple of their homemade truffles (these are incredible), or a bag of your spouse's favorite chocolate – there are dozens of dark and milk chocolate options to choose from. We're fans of the caramel turtles and the sea salt caramel.
Whether your significant other prefers fresh pecans or peach jelly beans, Palmer has it. Browse through hundreds of options for that perfect gift, then slip a special message in an envelope and you're all set.
Really, if fresh chocolates aren't enough, then your significant other is expecting too much.
For your man
Sure guys like chocolate and flowers, but we're pretty sure that they'd rather grill up a big steak, or take in a night of sports.
You're in luck because Sioux City has three sports teams – the Musketeers hockey team, the Bandits football team and the Explorers baseball team.
The Muskies have a game Saturday night and another seven home games before the season ends. Want to make it easy – get a pair of tickets, then grab a brisket sandwich and a cold beer at the game and you've got a date.
Maybe your man's more into football. Then pick up season tickets for the Bandits, starting at $37.50 each. The Bandits start their home stand on Feb. 28 against the Omaha Beef, hosting a total of six home games through May 30.
If baseball is his thing, then check out the Explorers, who start their season on May 21 at Explorers Park. A game at the ballpark is a great way to spend a summer night.
Maybe your man prefers music. Check out the upcoming events at the Hard Rock, WinnaVegas or the Tyson Events Center – there's everything from hard rock to country and '80s throwback bands to choose from. Whether its the Gin Blossoms or Crosby Stills and Nash, a concert ticket is a great way to say I love you. Get a pair of tickets and make a night of it.
And if you'd rather just stay in for the night, then pop into Braunger's and grab a couple ribeyes and fire up the grill. Finish dinner with a movie on Netflix and you're done.
What are you doing for Valentine's Day this year?