Sports & Rec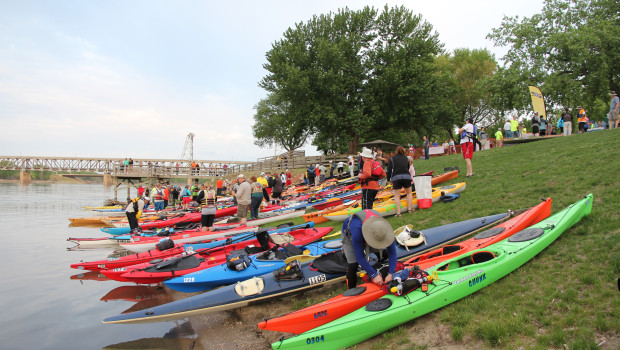 Published on May 20th, 2015 | by Thomas Ritchie
0
Paddlers battle Missouri in 30-hour Kayak Challenge

This weekend, more than 150 water lovers will launch their kayaks from the shores of Riverside Park in Yankton, S.D. with their sites set on Sioux City.
Their mission: Complete the 72-mile paddle down one of the most pristine stretches of the Missouri River in 30 hours or less as part of the South Dakota Kayak Challenge.
Organizers say the event, now in its fifth year, combines a physical challenge with a unique recreational opportunity.
"We really hope to share the beauty of the river with folks unfamiliar with the Midwest," said event founder Jarett Bies. "Our only goal is to have a safe event that shows off the unique beauty of the Missouri River."
The event attracts kayakers from across the nation.
"Our event started as a way to showcase the Missouri National Recreational River for paddlers who might not know how beautiful the wild and scenic stretches can be. We love the river and only hope to share that love with new audiences, some of whom are here for the first time," Bies said.
But one major concern is safety for paddlers in metro areas, especially near Sioux City.
"Unfortunately in the past, we have had some rec boaters who decided to mess with our racers. I don't know if kayaking is still new to them, or if they just don't like paddlers, but we have had power boaters intentionally swamp our racers. It'd be really great to have no situations like that this summer"
The race has four checkpoints along the route, which begins early Saturday morning and ends around 1 p.m. Sunday at the South Sioux City boat ramp. Racers can paddle straight through, or take their time to enjoy the serenity and beauty of the river. The record finish time is just over 8 hours.
"We're excited to show off the whole river – from the remote stretches up north to the urban-influenced area in the finish area. With racers coming from as far away as Oregon, Wisconsin, Missouri and Colorado, we hope they will not only experience a great outdoors experience but a friendly welcome from spectators and other river-lovers during the event."
Race organizers say that Dakota and Woodbury county Sheriff's offices will assist with river patrol during the race.
"We're only on the busiest waterway for a few hours – mostly between 3-7 p.m. – and know that people are out on personal watercraft or power boats having their fun, too. We don't want to interfere with that fun at all," Bies said.
For the most part, however, race organizers are just excited about hosting a great pool of recreation seekers exploring the beauty that South Dakota has to offer paddlers.
Find more information at www.sdkayakchallenge.com.