Community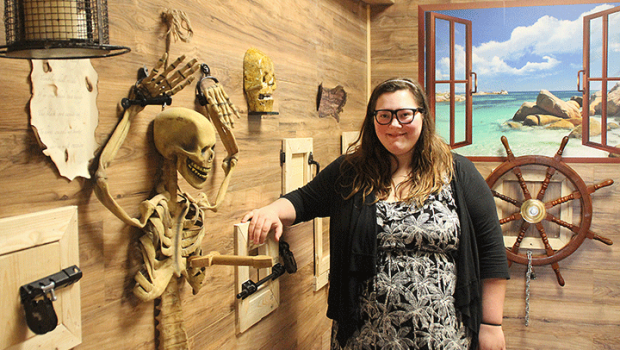 Published on April 15th, 2016 | by Ivy Sweet
0
New Sioux City Escape Room features 3 exciting challenges
Sioux City's newest form of recreation is an adventure.
Escape Rooms have become sort of a trend lately; they have appeared on reality TV shows and have been opening in cities across the country.
As of April 2, the trend has officially spread to Sioux City.
RELATED: 6 things to know before you enter The Pirate Ship challenge.
For those who are not familiar, an Escape Room is a place in which you and a partner or group are locked for an hour and must try to solve the puzzle laid out inside it. If you solve the room's puzzle before the time is up, you escape. (And if you don't, you get to escape anyway, of course – but without the honor of winning the game.)
According to Escape Room Directory, there are now more than 380 rooms at 138 facilities, and Sioux City isn't even on the list yet.
"People enjoy just thinking with [their] brain," said Sami Garrison (above), the owner of Sioux City's new Escape Room. "It's a completely different form of entertainment than has ever been made up [before]."
Garrison and her husband have spent the last seven months working on preparations for the opening of the Escape Room.
"We went to one in Kansas City and really liked it," Garrison said, "and we thought Sioux City would like one."
Garrison's Escape Room has three different rooms for visitors to try to escape from:
The Rabbit Hole, a whimsical, fun room inspired by "Alice in Wonderland;"
The Hostage, in which visitors are told that their missing "friend" is a secret agent and must be rescued before the time runs out;
The Pirate Ship, in which visitors are pirates who are raiding an enemy ship and have one hour to find the enemy's jewels before the captain returns.
Garrison says that it only takes about ten minutes to reset a room after an escape, so several groups can go through a room in one evening.
People interested in giving one of the Escape Room challenges a try are encouraged to book their hour as far ahead in advance as possible. Each room is encouraged to have a group of about eight people. The cost is $25 per person.
The Escape Room is located at 2540 Glenn Ave. Its hours of operation are 5 p.m. to 10 p.m. Monday – Thursday and 10 a.m. to 11 p.m. Friday – Saturday. Reservations can be made by calling 712-223-5528.