Live Music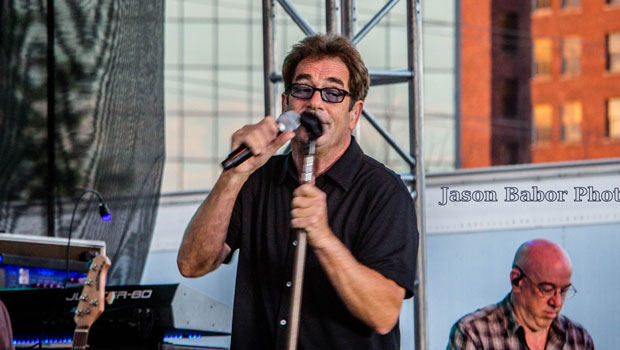 Published on July 24th, 2015 | by Sioux City Now
0
Heart of Rock and Roll kicks off RAGBRAI party
Submitted by Pat Hubbard
If anyone at Saturday night's Huey Lewis and the News concert left disappointed, it was probably because the band couldn't fit in every pop hit they ever recorded. Lewis even told the crowd there were so many hits and not enough time.
But who's complaining? The band did all the chart toppers including the opening number, "Heart of Rock and Roll," with its thumping heartbeat beginning. Other favorites included, "I Want a New Drug," and what seemed to be the crowd favorite, "Power of Love."
The nine piece band and Lewis's harmonica skills brought heat to the Tyson Event Center parking lot even though the temp was already 88. There were a few threatening clouds which never amounted to anything weather-wise.
Lewis chugged his bottle filled with whatever was quenching his thirst, sweat a bit, and played to an appreciative audience of all ages.
The band's new song, "Her Love is Killing Me," had a message similar to the 1985 Robert Palmer pop hit, "Addicted to Love."  The orchestration was much like that of "Heart of Rock and Roll."  The band played another new song, "While We're Young," that seem to didn't disappoint, even though Lewis was apologetic about playing these two new songs.
Appearing slim and trim, the youthful looking 65-year-old belted out hit after hit with a voice that has changed over the years, aging like fine wine.
Lewis gave a touching tribute to veterans with his hit, "Walking on a Thin Line," and a shout out to the hard-working class with "Working for a Livin'."
Encore tune, "Power of Love," was the eighties version of Andy Grammer's 2015 hit, "Honey, I'm Good." Both speak to monogamous relationships and how the power of love brings one home at night. The crowd cheered loudly when Lewis quipped that when he wrote "Power" some 27 years ago, he never dreamed that he would be singing it every night for the rest of his life.
The concert seemed to end way too soon, based on the response from the audience, but Lewis assured us that he'd be "Back in Time" for a future engagement.