Movie Reviews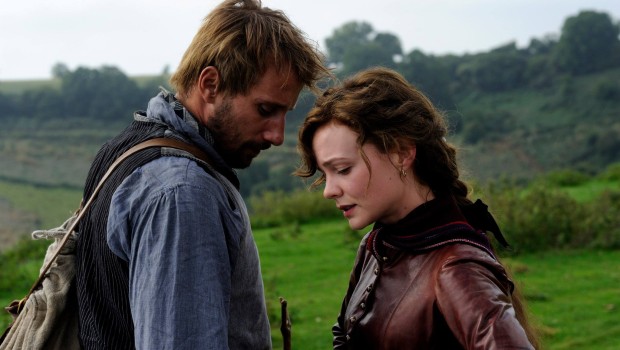 Published on June 1st, 2015 | by Leslie Erickson
0
'Madding Crowd' is romantic period film with wide appeal
"It is difficult for a woman to define her feelings in language which is chiefly made by men to express theirs."
― Thomas Hardy, Far from the Madding Crowd
Far from the Madding Crowd

Director: Thomas Vinterberg
Writers: Thomas Hardy (novel); David Nicholls (screenplay)
Actors: Carey Mulligan (Bathsheba Everdene), Matthias Schoenaerts (Gabriel Oak), Michael Sheen (William Boldwood), Tom Sturridge (Sergeant Francis Troy), Jessica Barden (Liddy)
IMDB Link: http://imdb.to/1LX0Nba
★★★★1/2
Movies made from 19th century novels are often beautiful and slow-moving, and certain audiences love them just as much as action film audiences love their movies, but these period pieces rarely entertain and appeal to a wider audience. Far from the Madding Crowd is one of those rare films that does.
The novel, written in 1874 by Thomas Hardy (not to be confused with Tom Hardy, co-star of the new Mad Max film – a connection I will make a little further in this review), is well-known in literary circles, and Hardy is a staple of advanced literature classes. But good literature, especially centuries-old literature, often stumbles in its transition to screenplay. Not a fan of period dramas myself, I sat to watch Bathsheba Everdene (what a name) and her three suitors in what I expected to be a slow, beautiful film, but I did not expect to be entertained nor completely engaged. I was wrong.
As expected, the film is visually appealing with lovely scenes of the English countryside, characters dressed in lovely costumes, and performances staged on intricately recreated sets, and yes, as expected, it's not as action-driven as most films that appeal to wide audiences, but its compelling, engaging, and completely entertaining. Thomas Vinterberg's direction moves the film from period piece to a compelling story, full of drama, emotion, and action.
The plot is as good or better than any good contemporary romantic film, eschewing the sentimentality and clichés most of those films employ. Hardy's storytelling is timeless and we're caught up in Bathsheba's struggles to run a farm in the patriarchal, misogynistic world of 19th century England, along with her struggles to sort out and express her emotions around the men that pursue her.
Carey Mulligan is entirely delightful as Bathsheba, and her ability to convey the transformation of the character is unmatched. While Hardy's words inform the novel's readers of the character's struggles:
"Bathsheba loved Troy in the way that only self-reliant women love when they abandon their self-reliance. When a strong woman recklessly throws away her strength she is worse than a weak woman who has never any strength to throw away. One source of her inadequacy is the novelty of the occasion. She has never had practice in making the best of such a condition. Weakness is doubly weak by being new."
Mulligan's only tools are her expressions and body language, and she is a master at conveying those shifting emotions and struggles. She captures the dilemma Hardy describes in the novel wonderfully.
Bathsheba is pursued by three men in the story, and each of the characters is played convincingly and effectively. Matthias Schoenaerts's Gabriel Oak conveys the right blend of strength and respect without drifting into sentimentality, and Michael Sheen's William Boldwood and Tom Sturridge's Sergeant Troy are also convincing in their roles, endearing and horrifying respectively. Jessica Barden plays Bathsheba's right-hand woman, Liddy, and she conveys the same strength of character that Mulligan does.
This strength of her character is what makes the film memorable. In regard to my earlier reference to Mad Max, I couldn't help make the comparison between the two films. Mad Max's Furiosa, played by a one-armed Charlize Theron, shares the protagonist roll with the title character played by an almost silent Tom Hardy. This sharing of the top spot, her character's strength and courage in another patriarchal and misogynistic world set hundreds of years later, and matriarchal sub-cultures found in the film, have earned Mad Max the descriptor of a being feminist film. After seeing the film, I was not impressed, nor did I see it that way.
It seems strong roles for women are so rare these days that any film with a strong woman character is called a feminist film. Yes, Furiosa is strong and brave, yes she frees the "breeders" (women who all look like Victoria Secret models and are dressed in flowing white gauzy garments), and yes, there are bands of women who have created a sort of mecca in the bleak world represented, but I would not call it a feminist film. There are too many continued clichéd representations of women; simply because an action film has a female hero, an admittedly rare occurrence, it doesn't warrant the distinction unless it carries real feminist themes.
In contrast however, Far from the Maddening Crowd does convey real feminist themes. Bathsheba, this 140-year-old novel's protagonist, is a real feminist character. She is a woman in a man's world, competing with them on some levels while still maintaining her femininity and grace. This is a woman who turns down marriage proposals in a world where women are expected only to aspire to marry well, and she does it while acknowledging some of the pleasure a wedding would bring: "Well, what I mean is that I shouldn't mind being a bride at a wedding, if I could be one without having a husband," she tells one potential husband when he proposes.
She recognizes the restraints a marriage puts on a woman in her era, and prefers to maintain her independence and autonomy. However, she doesn't denigrate the lifestyle she chooses to avoid – at least for much of the film – instead she simply lives the life she prefers. This is a true feminist stance – following one's own desires wherever they may lead, regardless of what society expects. Her strength and grace convey a strong woman, and her emotions and desires convey a vulnerable one. The blending of the two allows the audience a glimpse into a full, multi-faceted woman who lives life on her own terms. We would be fortunate as movie-goers to have more such roles for woman.