Art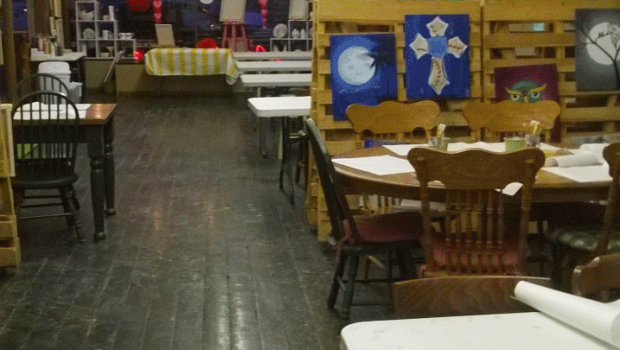 Published on March 21st, 2016 | by Ivy Sweet
0
Pickled Palette is creative, relaxing outlet for art newbies
You don't have to be an artist to create a work of art.
Pickled Palette on 4014 Morningside Ave. offers an artistic experience for people of all ages and all levels of artistic talent. As a person who has always appreciated art, but have never considered myself to have extraordinary art skills, I felt that my first trip to Pickled Palette offered me the opportunity to feel like an actual artist.
Offering a variety of artistic media, including canvas painting, glass fusing, and pottery painting, Pickled Palette has something to sate everyone's artistic interests. With that being said, here are seven reasons why you should go try out Pickled Palette:
1. They offer multiple forms of art, so you can experiment with different things and find what you enjoy the most.
I tried the pottery painting my first visit. For $20, I got to paint a pre-made trinket box shaped like a video game controller (a perfect addition to one of my video game shelves at home). But if you're not into game controllers or trinket boxes, rest assured that there is a very wide variety of other objects to paint; everything from little candleholders and coin banks to larger dog bowls and flower pots.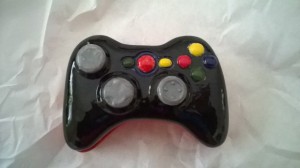 Every pre-made piece of pottery is plain white, so you have complete creative freedom over how you make it look. Just choose the five colors you would like to start off with and start painting! You can always ask for more colors as you get going.
If you're not interested in painting something pre-made and are looking to create something more from scratch, glass fusing also is an option. You start off with a flat piece of glass and then glue additional pieces of glass onto it to create something new. Your project will then be fired in a kiln to fuse the glass together into one piece.
If you feel like you need more guidance or would prefer to try making something that doesn't need firing in a kiln, there is also a canvas painting class – which brings me to reason number two….
2. They offer classes for those who don't want to wing it or are just interested in learning from an instructor.
Pickled Palette offers two hour classes in which each class member is presented with an identical 16 x 20-inch canvas. Instructor Ashley Prince will guide you step-by-step through painting an image of your choice, so you don't have to know what you're doing to make something awesome.
This is also a great group activity – my most recent visit took place during a bridal shower's private canvas painting session, and the evening was equal parts laughing and joking and creating a work of art.
3. Having a group painting or glass fusing party is a great way to spend quality time with friends and loved ones.
If you and your friends are looking for something new to try when hanging out together, exploring your artistic abilities while sipping your favorite wine is definitely a fun time.
Pickled Palette is the only place in Sioux City that offers art activities other than canvas painting, so your visit will likely be a unique experience for everyone. Just remember to call ahead and reserve seating if you are bringing a group of six or more.
4. You can bring wine or beer.
Must I say any more? You may sip on your favorite beverage while exercising your artistry; just make sure you remember to bring your own glassware to drink out of.
5. Pickled works of art make great gifts or fun custom pieces to add to your home décor.
With the broad range of possible creations that Pickled Palette has to offer, it's not a bad place to search for gift ideas – and a gift that is unique and custom made comes straight from the heart.
A visit or two to Pickled Palette may also be in order when interior decorating at home. I've personally found that it's fun to paint a piece of pottery with a specific location for it in mind. There's something really satisfying about creating something and then putting it on display!
6. Children will love the pottery painting.
If you have kids, the pottery painting is a great creative outlet that takes a step up from coloring books and craft activities. An artistically inclined kid will probably appreciate getting to do an art piece that is more mature and have fun while doing it.
7. Who doesn't enjoy painting and cultivating their artistic flair?
Painting can be very relaxing, so art is not a bad hobby to take up to take a break from stress. But more than that, being able to create something regardless of your level of talent is something that anyone of any age can enjoy, and Pickled Palette, with its variety of art media, is the place to go.
Pickled Palette is open Tuesday – Friday from 11 a.m. to 8 p.m., Saturday from 10 a.m. to 8 p.m. and Sunday from 12 p.m. to 5 p.m.