A&E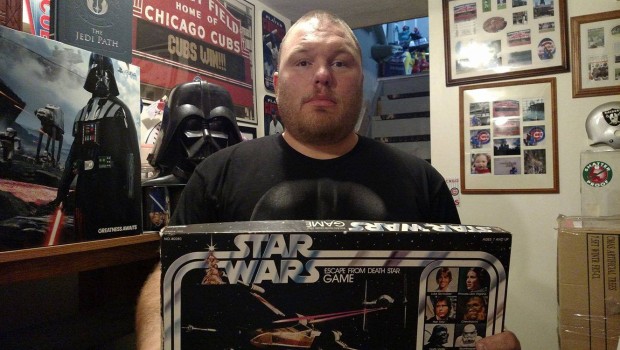 Published on December 16th, 2015 | by Ivy Sweet
0
'Star Wars' celebration planned before midnight opener
"Star Wars" fans have plenty to celebrate this week as the premiere of "Star Wars: The Force Awakens" finally opens at midnight Friday.
The good news – there will be plenty of other fans ready to mark the occasion. Star-eyed movie lovers are gathering at the Chesterfield, 1225 4th St., on Thursday night to celebrate the latest in a long-running series, and its predecessors. There will be music, live comedy, and a costume contest with prizes. And, of course, bantha milk.
The party starts at 6 p.m. and will last throughout the night – partygoers will be able to attend the premiere of the movie and return to the Chesterfield to continue to party if they are too hyped up on Star Wars to go home.
"It's gonna be a lot of fun," said John Olson (above), a die-hard Star Wars fan and self-proclaimed "fan boy" of George Lucas's franchise. "This movie's probably the most anticipated movie of all time."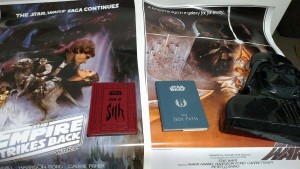 The idea for a premier party sparked about a month ago, according to Olson, when he came across the recipe for the bantha milk from the first "Star Wars" movie.
"I talked to Mick, the owner of the Chesterfield," Olson said. "It was a mutual idea between both of us. Figured no one else is gonna be doing it."
The premiere party will include:
A 20 foot screen provided by Acoustics Entertainment that will be playing one of the six previous Star Wars movies (which one is currently undecided).
Stars Wars music and decorations to set the vibe of the event.
A costume contest with prizes ranging from gift certificates to a free pitcher of beer.
Two separate drawings for two tickets to the midnight showing of Star Wars: The Force Awakens.
Live comedy and karaoke from 8:30 – 10:00, during which Olson will perform comedy wearing one of his 300+ Star Wars t-shirts. (He always wears a Stars Wars t-shirt when he performs.)
And, of course, the opportunity for Star Wars fans to just hang out and talk about their favorite movies of all time!
The Chesterfield will also be serving bantha milk. I was curious to know what it tasted like. "It's great," Olson said, enthusiastically. "It tastes like a Maraschino Cherry."
With the Chesterfield being only 3 blocks away from the Promenade Theatre, moviegoers have an easy walk between the party and the premier.
"I'm a Star Wars nut – well, 'fan boy', really," Olson said, making air quotes, "so for me to be the host of this thing is incredible."