Pets
Published on March 13th, 2017 | by Thomas Ritchie
0
Veronika the boxer loves belly rubs, big kids
Hi, my name is Veronika and I am a very good 2-year-old female boxer.
In 2016 I was picked up as a "stray" in Kansas City. I was shuffled from one over-full shelter to another. They told me about something amazing called Northern Plains Boxer Rescue, and they would save my life! I was heartworm positive so I went through that treatment and came through it very well.
I met a great lady who said she would take me in to teach me good manners and help me find my furever home. My foster home is in McCook Lake and I love it here. I have been working so hard with my foster mom and doing a great job on my manners – she says it is now time to find my family.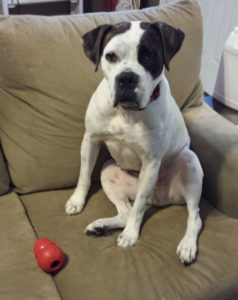 I know a lot about the family that needs to adopt me, but I haven't met them yet. Maybe you can help!
My family has a quiet house, some visitors but not a lot of people coming and going all the time. There might be kids, but they would be a little older, at least 10 or so. I love kids, but I get so gosh darned excited that sometimes I tip over the ones that are close to my size. My family could have only an adult or two. I really like to spend a little time each day doing some cuddling. A belly rub is a pretty awesome thing to get, too.
I know for sure my yard has a fence to keep me safe. I know to stay in my fence so 4-foot tall is good.
I almost forgot to mention toys. My family has toys for me because they know I like to chew hard and I am really good at choosing toys and not other stuff. Kong toys are my favorite!!! I also hold a speed record for mangling stuffed toys. I can tear them into minute pieces in no time. Stuffing goes everywhere, it's so fun. Did I mention my Kong? It's my favorite! I know there is a Kong just waiting for me.
I use my crate while my foster mom goes to work. When I have to be in the house alone I feel the safest in my crate. (I bring my Kong in there, too.)
My foster mom and I worked with a Dog Behaviorist. I have a really cool program that has information on how I do best with my commands, playtime, food and so much more. It's not that I am bad, I just needed a little help. My program helps me feel more comfortable. My foster mom says my family will really appreciate a 'book of helpful instructions about Veronika'. Most dogs don't have it so good.
The family that adopts me could have a cat – they are okay. There might be a dog there, too, but I would be happiest if I were the only dog.
If you think you and I would make a great family, go to the website www.everyboxercounts.com and read all the details then fill out an application.
Now that I am ready to look for my family, I might have millions of families trying to get me to their home. Don't worry, there are other really cool boxers on our website, too.
Go check out the website & don't forget to pick up a Kong for me!
Veronika