Sports & Rec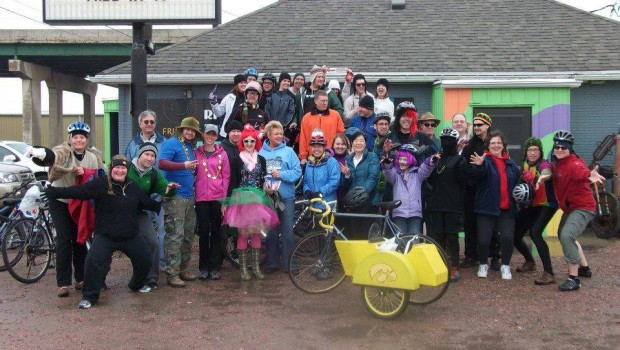 Published on March 4th, 2015 | by Thomas Ritchie
0
Winter SUX to ride through Morningside Saturday
RAGBRAI is still months away, but hearty local bikers love to start their training early. Even if there are more bars than miles along the route.
This Saturday, dozens of riders will take off on a two-wheeled journey through Morningside called Winter SUX. There are 9 bars and restaurants on the ride, which starts at Miles Inn at 9 a.m. Of course you will want to get there early for breakfast.
The popular Morningside jaunt is meant to be an early season ride. Last year's outing was a chilly one, with the day's low dropping to -9 degrees. Blowing snow and a 15 mph wind made for a short ride. This year, the polar opposite is in effect, with a high forecast around 50.
The great part is that cyclists get a chance to dust off their bikes, pump up the tires and hit the open road, if even for a 5-mile ride.
So, what can bikers expect on this fun late-winter ride? Overall, a good time.
Start at Miles Inn with a Charlie Boy sandwich and a Bloody Mary. Then hit the bikes and ride a short distance to Sooz's Saloon. If you know your geography, you know that's about a 7-block ride from one point to the next. Stop for beer. Ride. Repeat.
The rest of the ride includes: Bob Roe's (back room reserved, including prizes with food and drink specials) or House of Q for lunch, the Paxton Tap, Jim's (which is optional), Tav on the Ave, Pete's 20th (optional) finishing at Miles Inn with what, but another Charlie Boy and a schooner.
This is a free will ride, so riders are responsible for your own actions. That includes wearing helmets and great costumes. Getting creative and colorful is extremely encouraged, and there will be a prize for best dressed.
Whether you've got any miles under your belt this year of not, if you're looking for a fun ride with a bunch of half-crazy (remember it still is winter) cyclists, then head over to Miles.
See you on the road.
RSVP for the ride on Facebook here http://on.fb.me/1KovZ6E