Community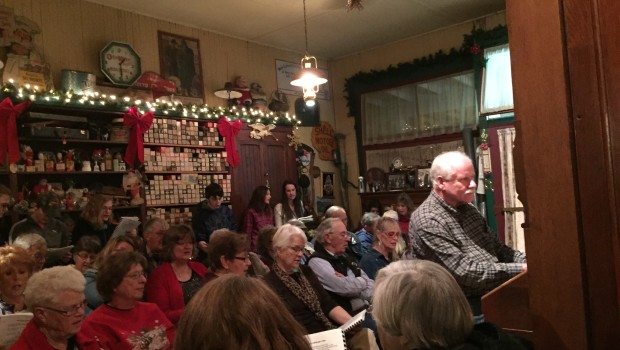 Published on November 15th, 2016 | by Thomas Ritchie
0
A night of joyful Christmas carroling, in a quiet country store
On a quiet Friday Night last December, we set foot in the Nora Store in rural South Dakota, and stepped back in time about 50 years.
Our entrance was heralded by the glorious voices of myriad random carolers, crammed together on folding chairs around an unusual pipe organ vibrating with the beat of Joy to the World. The room echoed. Warmth filled every open space in the high-ceilinged room. The excitement of the season was electric.
The 50 or so people – teen boys, young women, grandmas and uncles – sang together as if they were a seasoned choir. In reality, they were all gathered here as unknowing guests of Mike Pederson, the proprietor of this one-time store turned Christmas-time oasis.
Listed on the National Register of Historic Places, the Nora Store is located in Nora, S.D., about 45 minutes northwest of Sioux City, which the sign says has a population of 5. Every year for 27 years, Pedersen has opened his doors for this one occasion – to perform carols and lead sing alongs for a few weekends each year before Christmas. The 2016 open houses begin on Friday, Nov. 25 from 6:30-9 p.m. Performances continue Nov. 26 at 6:30 and Nov. 27 at 1:30 and 6:30, Dec. 2-4 at 6:30 and also 1:30 on Dec. 4, as well as Dec. 9-11 at 6:30., with the final matinee Dec. 11 at 1:30 p.m.
Every guest here seems like a friend of Pedersen, whether he knows them or not.
"Welcome," he hollers as two grey-haired women push through the front door into the confines of the large, musty room. "Where you from?" A guest hands us songbooks, and we grab some warm cider and cookies then settle into a pair of open chairs in the corner behind the organ.
The space feels like a big living room with the pipes at its center. The walls and shelves are filled with Christmas knick-knacks, bits of history, and old photos.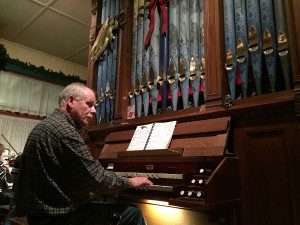 A tattered copy of "Rudolph the Red Nosed Reindeer" sits next to Pedersen on his organ bench, and nearby, a young girl of about 11 plays a violin while an accompaniest joins Pedersen on a piano in the corner. It's really a musical free-for-all, and we immediately feel welcome.
Pederson waves goodbye to some new visitors from Newcastle, Neb., then belts out "Oh, the weather outside is frightful, but the air is so delightful …" Immediately, his thundering voice lifts the spirits of everyone in the room again. Their voices jump an octave or two.
"What next?" Pedersen asks. "Let's sing number 55." Without a moment's rest, we're onto "Silent Night" then "We Wish You a Merry Christmas" and "Up on the Housetop" and a few lesser-known Norwegian carols, which some of the old timers sing in their native language.
The music never stops, and there's no formal program here. Kids ring jingle bells, a funny elf-like whistle gets passed around, and no one needs ask permission to request a song.
It's truly magical experiencing it all for the first time. In fact, it's almost unreal, as if some Christmas angel took a slice of time from 1945 and moved it to modern day, but just for a couple of hours.
Find the Nora Store on Facebook at https://www.facebook.com/norasouthdakota/