Community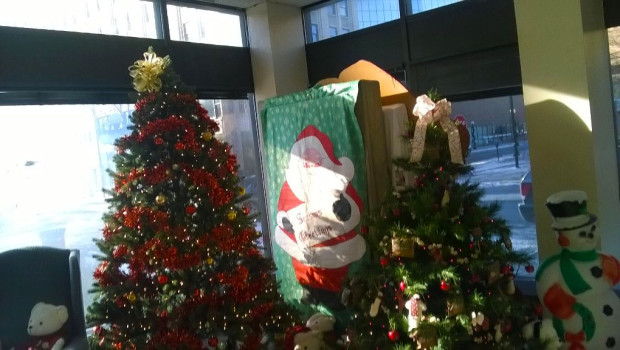 Published on December 1st, 2015 | by Ivy Sweet
0
Santa's House brings traditional, affordable holiday fun
The Christmas season has arrived and with it comes a special Siouxland tradition.
Santa's House, located at the Howard Johnson Hotel at 707 4th Street and powered by St. Luke's partners, is open four days a week every week until December 22.
"The children are so excited to see Santa, regardless of whether they are afraid to sit on his lap," said Diane Wheeler, the manager of volunteer services for Unity Point.  "When they come in, they have a sparkle in their eyes."
Visiting Santa's House is a good opportunity for families to enjoy some holiday fun without having to break open their wallets.  It is open Tuesdays and Thursdays 6 – 8 p.m., 10 a.m. to 4 p.m. on Saturdays and noon to 4 p.m. on Sundays.
Visitors to Santa's House are able to participate in:
A free art and craft table where kids are able to create simple gifts for their parents and grandparents (or even just fun gifts for themselves!).
$1 raffles in which participants can win donated prizes from Bomgaars, Rudolph Shoe Mart, Strachan's Hobart Sales and Service, and many others.
Drinking hot chocolate and eating cookies frosted by Mrs. Santa and her elves in Mrs. Santa's Kitchen.
Shopping for very affordable (usually under $10) gifts in Santa's Gift Shop.  Volunteers dressed as elves help kids choose gifts and wrap them to surprise their family members.  "It teaches them the joy of giving," said Wheeler.  "It gives them early experience of choosing a gift for someone else.  They might want to just buy things for themselves at first, but soon they learn that maybe mom doesn't want that truck."
And, of course, the classic tradition of getting to sit on Santa's lap and visit with him.  Photographs of each child with Santa are available for purchase in 4 x 6, 8 x 10 or wallet sizes.  Parents may also take their own photos, though a free will donation is requested.
On December 8, Santa's House will host a Special Needs day for children with disabilities.  A Santa proficient in sign language will be available to children with impaired hearing in the morning and an event from 1 – 2:30 in the afternoon will be available to children with other disabilities.
All proceeds and donations to Santa's House are given to college scholarships (over $10,000 worth!), Children's Miracle Network, Pet Therapy and Caring Clowns, among many other charities.
"We're hoping for $29,000 this year," said Wheeler.  "It goes right back to providing the best outcome for every patient, every time."
Santa's House is sponsored by Goosmann Law Firm, CF Industries, Security National Bank, Quota, East High School and many others.