Sports & Rec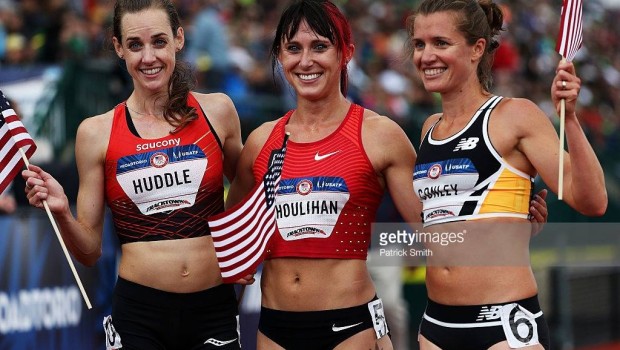 Published on August 12th, 2016 | by Sioux City Now
0
City hosting Shelby Houlihan Olympic Watch Party
Sioux City will gather together Tuesday to cheer on East High School graduate and Summer Olympian Shelby Houlihan (above center) as she makes her Olympics debut in Rio.
The Siouxland Chamber of Commerce and the City of Sioux City will host a Watch Party for the two women's preliminary heats in the 5,000 meter Olympic race on Tuesday, Aug. 16, 2016 from 7 a.m. to 8:30 a.m. at the Sioux City Convention Center. The race will have two heats beginning at 7:30 a.m. and 7:51 a.m. The event will be streamed live by KES Productions.
Shelby Houlihan, Sioux City native, East High School grad, and All-American at Arizona State, will compete in this event. Houlihan is the first female track runner from Sioux City to reach the Olympics.
Mayor Bob Scott said "On behalf of the City of Sioux City, I want to wish Shelby the best of luck in the 5000 meter race on Tuesday morning. Our community is proud to have her representing us."
Siouxland Chamber of Commerce Executive Vice President Barbara Sloniker said she was looking forward to the event, "How wonderful to have someone from Sioux City competing in the Summer Olympics. As anyone who has lived in Sioux City over the past 10 years can attest, the name Shelby Houlihan has been synonymous with running fast. Shelby is a great role model as she has worked hard all of her life to achieve this goal."
Bob Prince, Shelby's uncle, a collegiate runner and one of the organizers along with his wife, Chris, said, "As her Uncle and as a member of the Siouxland running community that have followed Shelby's career over the years, this is an opportunity to see her reach the pinnacle of the sport. Something very few ever experience. We think this will be a great event to watch. Please come join us in the celebration of her success and help her put the hammer down in the 5K!"
Refreshments will be served. Admission is free and open to the public. For more information please call the Siouxland Chamber of Commerce at 712.255.7903.
Photo: Facebook.com