Food & Drink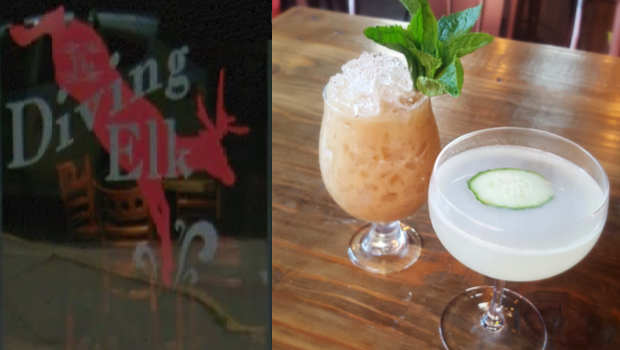 Published on June 23rd, 2016 | by Ivy Sweet
0
Diving Elk Brings New Mixology to Sioux City
Some New York City flavor is coming to the Sioux City cocktail scene.
The Diving Elk is bringing in cocktail connoisseur Stacey Swenson, a Sioux City native turned New Yorker who practices the art of high end cocktails.
"I've been in the hospitality industry for 13 years now," Swenson said, "but collectively over the years, I've been bar tending for about eight of them."
Swenson has been making upscale cocktails for about three and a half years. She currently bar tends at both Belle Shoals in Brooklyn and Dante in Manhattan and has previously worked at American Whiskey and Booker & Dax.
"C. J. [Perera, owner of The Diving Elk] and I have known each other since we were kids," said Swenson. "We've always kept in contact – we've always been buddies. He came to visit me in Chicago. He always said he wanted to open his own place and I would give him advice. We've been talking about doing a cocktail menu for a long time. I'll put the finishes touches on it in the next couple of days."
Swenson moved to Chicago after attending the University of Iowa and lived there for eight years. Eventually, she felt that her career had become stagnant in the windy city and started a new life in the big apple.
"I kind of moved to New York on a whim," Swenson said. "I had connections in New York, so it was an easy move to start with – great move, great connections in the industry. It really worked out beautifully. I couldn't ask for a smoother transition."
Swenson's cocktail style is something new to Sioux City's bar scene, but it is more than just taking refined alcoholic recipes from her New York City mixology – she hopes to give patrons elevated, unique drinks that still taste like home.
"I'm taking things I created in my own cocktail style and incorporating some local flavor and nostalgic things I remember about Sioux City," she said. "The goal is to make it palatable and understandable to people here – not just taking a New York menu and bringing it to The Diving Elk, but putting a local spin on it. I'll be using good quality spirits but also keeping it approachable. I want the menu to be fun and be a reflection of The Diving Elk, and the food, and the scene that's there."
Swenson will be at The Diving Elk for the next couple of days, getting a feel for the bar and the guests, as well as sampling the food, before her cocktail menu is finalized.
"I'm going along with what their food menu is – local ingredients, fresh, handcrafted, on the spot," she said. "Everything is really well thought out. I'm going to get a better feel of what their food menu is like. I've seen the food, but haven't actually tasted the food. So I'll be thinking about that while I make the menu. I've heard a lot of good things, and I know there's love and passion in the food. I want the beverage menu to reflect that, as well."
The Diving Elk's new cocktail menu is going to bring customers a new point of view of mixed drinks.
"People will be exposed to what a well-made cocktail should be – made with fresh ingredients," said Swenson. "They may just see cocktails as being overly sweet or something to just get you drunk. I want people to realize that they can be an extension of a culinary menu, not just a basic jack and coke. They can be sustainable in a restaurant."
Friday night will be the grand premiere of Swenson's cocktails at The Diving Elk. All are invited to experience The Diving Elk's new mixology for the first time. The Facebook event can be found here.
"All night long – from open to close – we have a menu we're going to be launching," said Swenson. "Most of those things will stay, some of them won't. There's gonna be lots of friends and family there. We just want to have a lot of fun. You can ask me questions about different drinks. It'll be a casual affair – really fun, but with really tasty and delicious food and drink."
The Diving Elk is located at 1101 4th St. and is open Tuesday through Saturday from 3 p.m. to 2 a.m.