Food & Drink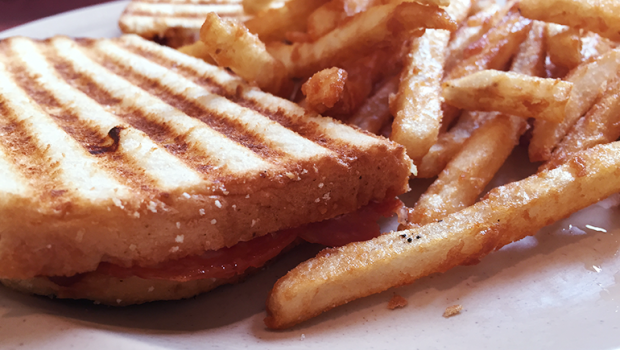 Published on February 27th, 2015 | by Thomas Ritchie
0
Little Chicago's Panini left me wanting more sauce
Little Chicago is known for its sub sandwiches, but I hit up the downtown eatery this week to try something different: the Pepperoni Panini.
The Panini, which is really just a grilled sandwich, has gotten plenty of attention in recent years. And I'm not sure why – I think it's because serving panini sounds fancier than serving a Pepperoni and Grilled Cheese sandwich. Either way, it's fun to say: Panini, panini, panini. Which coincidentally, is a great name for a cat. But I digress.
First, let me say that I'm a big fan of hot sandwiches. Grilled cheese, hot ham and cheese, Philly steak, you name it and I'm a fan. So I decided to give the Panini a test run.
Now, what's in it: pepperoni, provolone, marinara sauce and cream cheese, then it's popped on a panini grill until hot. Not too complicated, really. And that's the way it should be.
I wanted this to be a big sandwich, but realize that these ingredients don't have much heft, and therefore what I was got was a rather flat sandwich served on sourdough bread.
Traditionally, a panini sandwich is made on non-sliced bread styles, such as ciabatta or a baguette. But Little Chicago's is just fine on the sourdough, which was perfectly toasted.
One bite and I immediately tasted the cream cheese, which would be fine if I hadn't been looking forward to the marinara.
But I decided to enjoy it for what it was and dug in.
I took in the marinara flavor – it was pretty traditional pasta or pizza-style red sauce with a few small chunks of tomato. Good flavor.
There was ample pepperoni (or is it pepperonis?) across the sandwich. And the provolone seemed to meld right into the sandwich.
Again I come back to the cream cheese. At first I thought there was a bit too much. Actually, I don't think there was too much, but perhaps there wasn't enough marinara and therefore the cream cheese overpowered the sauce.
That's what bugged me about most about this sandwich, and really that's not much to complain about. Overall, this panini did the job – it filled me up (without overfilling me) when I was hungry. It's a perfect lunch.
l got the fries with my sandwich. While the homestyle chips at Little Chicago are awesome, the fries are equally as tasty. I like to dip mine in ranch.
Would I have the panini again? If I was in a pizza sort of mood. But for the most part, I'm sticking to my No. 17 on wheat.