A&E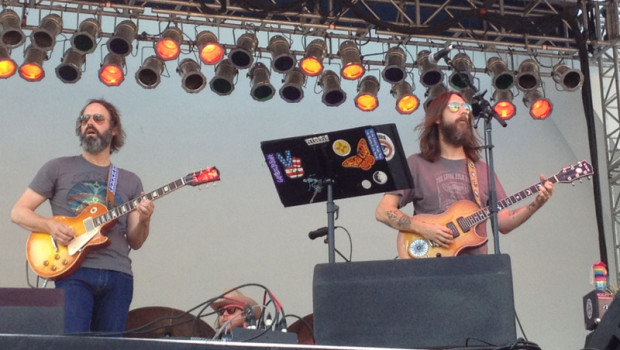 Published on June 29th, 2013 | by Sioux City Now
0
Saturday in the Park is July 6
The 2013 Saturday in the Park festival is just hours away. And that means the hearts of music fans are racing.
Voted one of Iowa's best events, this annual free concert is set to rock Grandview Park in Sioux City on Saturday, July 6, from noon to 10:30 p.m. The event regularly attracts crowds of more than 20,ooo to the city park, which features a natural grass amphitheater. Food and drink vendors, a kids area and an arts alley are all part of the fun. This year, the ferris wheel is back in the amusement area.
Sure it's a music festival, but for Sioux Citians, it's more than that. It's a reunion of sorts for family and friends to celebrate something they can all agree on – great music. The neighborhoods around Grandview Park become a gathering point, where parties sprout up on each block. Then as the sun coats the huge hill in Grandview Park and the music starts to waft through the trees here, music fans start the walk to the park to stake a claim near the stage. By midday, blankets and lawn chairs will form a colorful tapestry here, and the music will be flowing.
For more than 20 years, this has been a Sioux City tradition for thousands of residents and former residents who gather to celebrate their favorite artists. This year is no different.
Melissa Etheridge and Sublime with Rome will headline the event. Etheridge is a double-platinum award winner, and accomplished rock singer-songwriter. Sublime with Rome grew out of the original Sublime band with new frontman Rome Ramirez. The band's music is synonymous with the explosion of ska in California in the past two decades.
Ska, hip-hop up-and-comers The Dirty Heads also will perform, as will ZZ Ward, whose star has risen fast in the past 12 months.
The Kris Lager Band will bring a mix of rock, soul and trance. Look for them to wow all types of  music lovers.
Iowa City band Tallgrass brings a mix of musical genres to the table.
The Harmony Project, a collective headed by Sioux City's Ron Emory of the Sioux City Conservatory for Music, opens the day at noon. Expect some surprises from this collective.
Find more information about the event at saturdayinthepark.com.
Here's the lineup:
8:30 pm – Melissa Etheridge
6:30 pm – Sublime with Rome
4:45 pm – The Dirty Heads
3:20 pm – ZZ Ward
2:15 pm – Kris Lager Band
1:00 pm – Tallgrass
Noon – The Harmony Project