Sports & Rec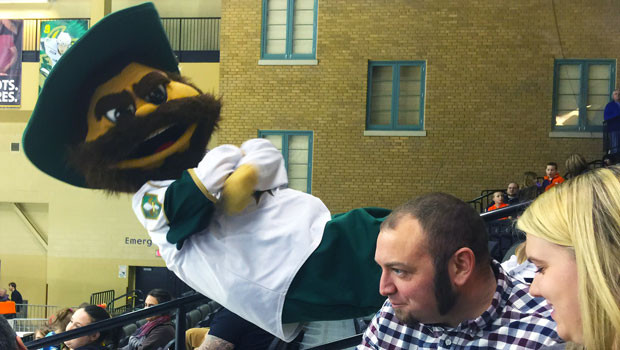 Published on February 17th, 2015 | by Nakia Tyler
8
Sioux City Adventures: 10 Crazy Things that Happen at a Musketeers Game
This may come as a huge surprise, but I'm not exactly a sporty person.
I participated in a couple of 4H basketball tournaments in grade school. And I was on my middle school volleyball team for a whole semester during 6th grade. That's it. That's the extent of my participation in group sports.
To be completely honest, I don't even like watching sports very much. Occasionally, I'll sit around with my friends or family to take in some game on TV (mostly college football – go Cyclones!), but for the most part, I'm blissfully ignorant of all things sports and recreation.
So, when my colleagues suggested that I go to a Sioux City Musketeers hockey game for my next Adventure, I wasn't entirely sure what to expect. But, as I've said, I'm willing to try anything, so long as it's not dangerous, illegal, or harmful to myself or others.
We all made a night out of it, and went to see the Muskies face off against the Des Moines Buccaneers.
What I quickly realized was that, even if I didn't enjoy watching the game itself (I actually did!), there was plenty of other crazy stuff going on to keep me entertained. And, perhaps because of my lack of interest in sports, it's those other things that stick out in my mind three days later.
Here's what I can tell you about the game itself. The Musketeers won, 5-0. There wasn't much fighting going on, despite the young man behind us, who kept yelling, "break the stick over his head!" over and over. And it's nowhere near as cool as The Mighty Ducks make it look.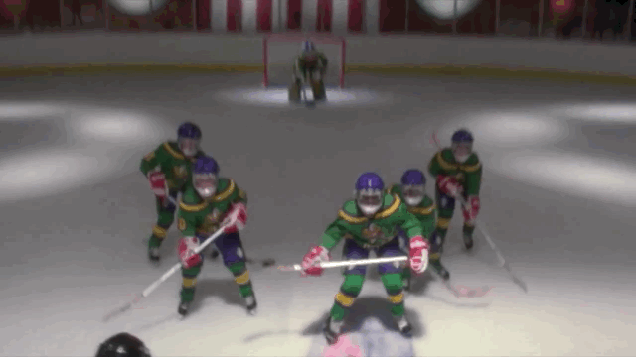 Now that you know what the game was like, let me tell you about 10 other, kind of crazy things that happened that had very little to do with the game.
#1: Icy musical chairs
During the period break (hockey games have three 20-minute periods, with 15-minute breaks in between), a group of participants plays a game of musical chairs – ice rink style. Winners get prizes from sponsors.
#2: Zamboni Rides The zamboni is the machine that gets driven around to clean the ice between periods. And, apparently, you can somehow get selected to sit on top of it and ride along as that happens.
#3: Chuck-a-Puck
From what I understand, you can purchase hockey pucks, and you chuck them onto this giant bullseye that gets laid out on the rink. The bullseye is covered in sponsor prizes, and if your puck lands on one of the prizes, you win it!
#4: The Kiss Cam Cameras zoom in on couples, whose faces appear on the huge Jumbotron above the rink as their lips meet in a sometimes-awkward smooch. I'll spare you all the visual. My question: how do the cameras know for sure that they're looking at a couple? What if I'm there with my brother or something? Ew.
#5: Hey, Macarena For several throwback moments, the majority of the crowd danced along with this once-popular song, with the goal of getting their moves noticed by a camera and displayed on the Jumbotron.
#6: Flying Zeppelin
This was one of my favorite things – a giant zeppelin flying above the rink and audience. I didn't realize until it came to our section that it actually releases coupons of some kind, but only when it wants to!
#7: The Burrito Bump Quite possibly the weirdest thing I've seen. I was so weirded out, I didn't even get my camera out to capture it until it was too late. But, picture this: a huge virtual bouncing burrito superimposed over images of the crowd, who were raising the roof in an effort to keep the burrito in the air. Brought to you by those goofballs over at Panchero's.
#8: Mascot Interaction Another cool moment happened when the mascot meandered over to our area for some fist-bumps and adoration. Apparently he wasn't expecting to be photographed, but once he got over his initial camera shyness, he was all about the showing off!
#9: Celebration Train
Okay, so apparently it's a big deal when someone makes a goal. So much a big deal that they blast a train horn so loud that it almost ruptures your eardrums, and then there's a huge celebration with flashing lights and shouting. It's actually kind of terrifying, if you ask me. I kind of wish that Des Moines would have scored, so I could have seen what their fanfare looked like.
#10: Muskies Mixtape I'm not sure who's in charge of choosing the music for these games, but they're clearly confused about which decade they're in. From Black Sabbath to Los del Rio, from The Price is Right theme song, all the way to Meghan Trainor, the songs take you on a pretty groovy trip. It's hard not to get wrapped up in it, as demonstrated by my boss, his daughter Ruby, and her friend Morgan.
So, whether you're a hockey superfan, or a clueless novice like me, there's bound to be something at a Muskies game to tickle your fancy.
The only complaint I have is the price. The ticket was $14.50, plus a fee of $4.54, which brought the total to $19.04. Seriously? Twenty bucks? Maybe I'm just being a cheapskate, but I would rather see the sponsorship money going towards lowering the price of tickets, instead of being thrown around in the form of prizes, coupons, and bouncing burritos.
Just saying.
There are a few home games left this season, so head on over to the Tyson Event Center website to get your tickets now!
[In the interest of full disclosure, I actually have been to a hockey game before, but it was long enough ago that I didn't remember much about it. I also think it was back in the old Sioux City Auditorium days. Wow, I'm old.]
Nakia Tyler is a Project Manager at Team Creative Fire. When she isn't exercising her creative muscle, she spends her time fan-girling over Doctor Who, playing with her adorable niece, and fueling her shopping addiction. If you see her out and about having adventures, feel free to say hi. She'll probably be wearing pink.