Community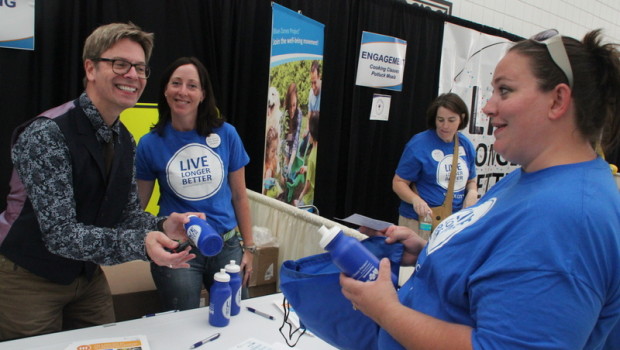 Published on August 21st, 2015 | by Thomas Ritchie
0
Sioux City officially achieves Blue Zone status
Sioux City has officially gone blue.
With the designation as a Blue Zone community this week, the city entered an elite group of communities focused on healthier living.
"We are proud to be named a certified Blue Zones Community," said Sioux City Mayor Bob Scott. "The Blue Zones Project has brought new ideas and passion around well-being to our community and has bolstered the efforts that were already in place, leading to so many positive changes for our city."
The announcement was made this week by Wellmark Blue Cross and Blue Shield, Healthways, Inc., and Blue Zones, LLC. Certification recognizes Sioux City's community transformation through successful implementation of Blue Zones Project®, a first-of-its-kind population health program that brings the world's best practices in food policy, built environment, purpose and social networking to participating cities.
Community leaders, volunteers and organizations throughout Sioux City have been working to achieve certification status since January 2013, when the community was named a Blue Zones Project demonstration site.
Locals took part by joining in neighborhood group-based walks, cooking classes focused on nutritious eating habits, and enjoying new and healthier selections on restaurant menus.
The milestone was met after reaching the following key milestones, all of which are required improvement goals for Blue Zones Project communities to receive certification:
50 percent of the top 20 identified worksites became designated Blue Zones Worksites. A total of 29 worksites have been named Blue Zones Worksites, 13 of those in the top 20.
25 percent of schools became designated Blue Zones Schools. A total of seven schools have been named Blue Zones schools.
25 percent of restaurants became designated Blue Zones restaurants. A total of 14 restaurants have been name Blue Zones restaurants.
25 percent of grocery stores became designated Blue Zones grocery stores. A total of six grocery stores have been named Blue Zone grocery stores.
20 percent of citizens have committed to the Blue Zones Project and completed at least one well-being improvement action. More than 13,360 individuals have taken the Blue Zones Personal Pledge and completed an action.
"The vision of healthier, longer lives through environmental change is beginning to come to life in Sioux City," said Blue Zones founder Dan Buettner. "The community has made a wise investment in its future. I applaud their efforts and look forward to following the continued positive progress."
As a result of its efforts, Sioux City can celebrate the following outcomes:
Sioux City is one of three cities in Iowa and one of only 230 nationwide to accept the Mayor's Challenge, which promotes complete streets, biking and walking data, street guidelines, and other walkability and bikeability initiatives.
This is supported by a new active transportation plan that maps out priorities and recommendations, such as 19 new miles of bike infrastructure including bike lanes.
As of fall 2014, 641 students walked to school with a Walking School Bus. This was supported by 288 volunteers and 1,141 volunteer hours. The buses now serve 11 schools with 16 routes.
Restaurants and companies noted a number of nutritious trends:
A 200 percent increase in black-bean burger sales and a 37 percent increase in portabella sandwich sales at Hy-Vee Mainstreet. They also estimate 25 percent of customers opt for the healthier sides of carrots or apples.
Mercy Medical Center saw measurable improvements from 2013 to 2014 in their wellness screening results including a 15.4 percent increase in ideal BMI, an 11.6 percent improvement in diabetic risk, and a three percent improvement in ideal cholesterol.
American Pop Corn Company improved healthy vending options by 47.7 percent from 2013 to 2014 by adding two healthy beverage machines and eliminating two candy machines. The company has also seen nearly 100 percent participation in their biometric screening.
2014–2015 results indicated a 55 percent improvement in employees' HDL, or "good" cholesterol, a 14.5 percent improvement in their LDL, or "bad" cholesterol, and a 9.4 percent improvement in the number of employees who use nicotine.
Wal-Mart moved healthy items into a Blue Zones checkout lane leading to a 200 percent increase in health bar sales and 76 percent increase in sales of nuts over the same five-week period from 2014 to 2015.
More than 600 individuals joined a Walking Moai, or walking group, to build camaraderie and friendships while moving naturally. Another 530 people attended a Purpose Workshop and 350 attended a Blue Zones Project cooking class.
"Sioux City has done a remarkable amount of work to make the pursuit of well-being a way of life," said Laura Jackson, Wellmark executive vice president. "The policies and programs implemented in the community serve as great examples for other Iowa communities. We congratulate Sioux City on achieving Blue Zones Community status."
"We know that communities with greater well-being have lower healthcare costs, higher productivity, and are recognized among the best places to live, work, and play," said Katrina Worlund, Healthways senior vice president, Blue Zones Project. "With its dedication to well-being improvement, Sioux City has set itself apart from other communities across the U.S. in a way that will not only improve the health of its citizens, but will also enhance its economic and social vitality for years to come."
Fifteen Iowa communities are currently part of the Blue Zones Project and are positively influencing statewide outcomes to date, as measured by the Gallup-Healthways Well-Being Index®. Blue Zones Project is the centerpiece of Iowa's Healthiest State Initiative, a privately led, publicly endorsed initiative intended to inspire Iowans and their communities throughout the state to improve their well-being.
Sioux City will formally celebrate the achievement on Sept. 19 at 10 a.m. at the Farmers Market. Media and citizens are invited to join leaders and volunteers to celebrate.
For more information, please visit www.bluezonesproject.com.