A&E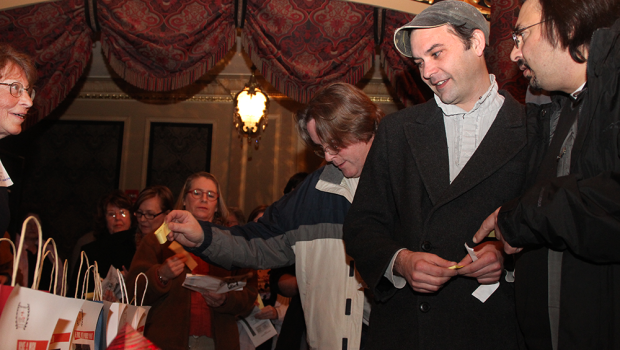 Published on February 26th, 2015 | by Thomas Ritchie
0
Siouxland Film Festival expands to 3 days, adds longer films
This year a popular local film event is taking a big step, jumping to three days from what was once a one-night affair. The Siouxland Film Festival this year marks 11 years of bringing independent short films to the big screen, and organizers say the changes are a big deal.
''We expanded the Festival to three days because of the increased interest from filmmakers and our local audience," said Rick Mullin, board member of the Siouxland Film Festival. "The wide range of film styles gave us the inspiration to have different genres at different locations in downtown Sioux City."
The breadth of films shown this year is pretty impressive: International and Art House films will be shown at the Sioux City Art Center tonight; Horror, Sci-fi and fantasy will be shown Friday at the Sioux City Public Museum, and general films, plus the audience favorites from the first two nights will be shown at the Orpheum Theater on Saturday.
Tonight's event will include the world premier of a French film, "Un Jour de Lucidite", and the filmmakers are flying to Sioux City from Paris to attend the event. On Friday, the film "The Captain" by Dakota City native and Morningside graduate Adam Gonshorowski, who was a writer, producer and production designer, will be shown. (See related story here)
The best part of this event is the variety of films shown each year. Because they are shorts, and are created for audiences around the world, the diversity of subject matter is broad. Humor, drama, documentary, horror are all represented in the spectrum of work shown.
Other changes were made this year to improve the experience, Mullin said. While the film festival is an entirely shorts program, this year the maximum length for films was extended to 30-minutes, double the previous 15-minute limit.
A total of 33 films will be shown in all over the three days. They are a mix of local, national and international films, and after the showings, audience members will decide which film and filmmakers will be honored with trophies and cash prizes.
Over 85 films from eight countries and the United States were entered, and the best were selected by the Film Festival board. But in the end, the audience awards are what matters for filmmakers.
Another change this year is the opportunity to talk with the filmmakers. Several local, national and international filmmakers are attending the festival to share their story with audiences and see their work on the big screen. Filmmakers from France, North Carolina and across Iowa are planning to attend, Mullin said.
"This is one of the strongest years for the range of subject and the excellent quality of the films we are showing," Mullin said.
Tickets are available at the door each night.
Schedule of events:
Thursday, February 26, 7 PM, Sioux City Art Center – International and Art Film showcase
Friday, February 27, 7 PM, Sioux City Public Museum – Horror, Sci-Fi and Fantasy films
Saturday, February 28, 2 PM and 7 PM, Orpheum Theater – General Films and Genre Winners