Community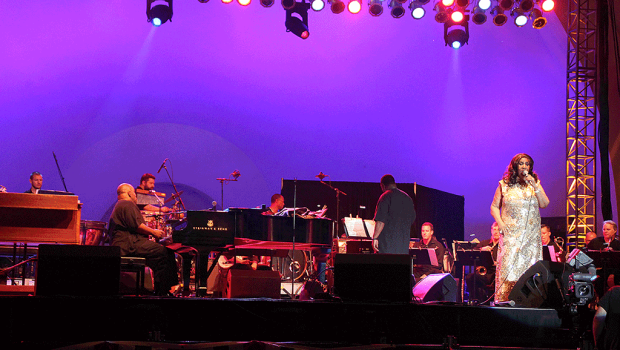 Published on July 7th, 2015 | by Sioux City Now
0
SITP review: Aretha brought it, but it took some time
Submitted by Pat Hubbard
The 25th annual Saturday in the Park is history. Good weather, great organization, committed volunteers and a host of generous sponsors created an event to make any Siouxlander proud of this community.
One of the early acts of the day was the locally assembled band that paid tribute to the late B. B. King, King of the Blues. King, who passed away in May, headlined Saturday in the Park in 2007. John Bartels, lead guitar and vocals; Johnnie Bolin, drummer; Terry Brooks, keyboard and vocals; Billy Ryder, harmonica and vocals; and the father/son duo, Sam Irish, Jr. guitar; and Irish, Sr., bass guitar and vocals captured the vibe of the late King.
They couldn't have done a better job honoring King as they did their own renditions of songs such as "Let the Good Times Roll," "Sweet Home Chicago," "The Thrill is Gone," "Respect Yourself," and "Caledonia," just to name a few.
RELATED: See pictures from a day of fun, sun and music
Rumor has it that they rehearsed together only once, but the band's performance was 25 degrees hotter than the 80-degree air temperature. These six Siouxland musicians, whose combined music experience numbers in the scores of years, made me proud to be in the audience to witness a great set. Will they perform together again? I hope so. I could have listened to them for hours.
In my anticipation of her performance, my expectations for the 73-year-old Queen of Soul, Aretha Franklin were a little bit unfair to her. I came early, ready to hear her belt out hit after pop hit, sending me singing and dancing into R & B soul heaven.
My hubby and I positioned ourselves near the front of the stage just before Foster the People began their set. While not a die-hard fan of Foster, I truly enjoyed their genre, and the toe-tapping, head-bobbing beat of their 2011 hit single, "Pumped up Kicks."
After Foster the People, the excitement and tension for Aretha was building among those around me. There was chatter and speculation about which hits she would sing, what she would wear, and whether we would be moved to cry.
She has had 17 Top 10 pop singles in her 50-year career, including "Chain of Fools," "I Say A Little Prayer," "Spanish Harlem," and "Break it to Me Gently." Then we waited. And waited some more.
Finally, after Franklin's orchestra was set up and ready to roll, the lights came down and the show began. An announcer gave a big introduction, citing all her awards along with historical commentary about her career.
Then the orchestra primed the audience with a composition which featured the musicians, but didn't add much to the mounting fever of the crowd. At last, Franklin was escorted in from the back of the Bandshell stage. The audience hooted out a loud vote of approval of her presence and her sequin-studded full-length gown suitable for any Queen.
Personally, the first part of her show was a little unfulfilling for me. Aretha sang three of her hit songs – "Think," "Natural Woman," and "Baby I Love You" as well as some of the songs from her latest album Aretha Franklin Sings the Great Diva Classics. But I had come for Aretha's big hits, not her new album.
Her backup recorded tracks were a disappointment. Couldn't her production team, who hired regional musicians, have hired some local vocalists/dancers who would have made Franklin's performance much more energizing?
Twenty-five minutes and six songs into her performance, she put her microphone down and left the stage. After a 10-minute break, she returned to the stage, this time featuring her gospel talent.
That's where her roots lie and she did a great job, except for the long gospel rant about her medical issues. I would rather have heard five more of her pop hits in the time it took for her to sing about her illness.
Near the end of Franklin's performance she brought it. Her talents on the keys to "Bridge Over Troubled Water" and "My Cup Runneth Over" brought goosebumps. What seemed like a slow trip around the park in the beginning, successfully ended as she hopped on the familiar "Freeway of Love" and schooled us about "RESPECT".
These were the songs I came to hear, but, with different feeling as she slowed the tempo and softened the tone from her original recordings. What really matters is this: Aretha brought it, and I left the park feeling happy to have been a part of her great show.
The finale of fireworks were a disappointment. On this 25th SITP anniversary, I expected a display that exceeded all of the past years. What we saw lasted all of two minutes. Was the fireworks display cut short because of the late hour? Aretha's show ended somewhere around 11:25 p.m., and maybe the neighborhood was sleeping.
Overall, I couldn't have asked for a better celebration of America's birthday. I'm already looking forward to next year.