Live Music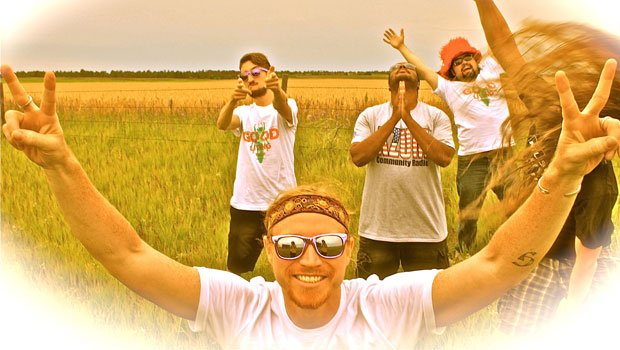 Published on August 12th, 2015 | by Thomas Ritchie
0
Kris Lager Band builds grassroots following across nation
This Friday night, Lincoln, Neb., rock, blues and boogie collective Kris Lager Band takes the stage at The Chesterfield for a night of live musical hijinks.
Make no mistake, these guys are the real deal, and one leaves without a smile on their face. We talked with frontman Kris Lager about what they've been up to since they played Saturday in the Park in 2013.
You guys played Saturday in the Park a few years back. What's the band been up to since then?
We've been mostly touring and recording. We just wrapped up our fifth annual Hullabaloo Music & Camping Festival that we host the last weekend of every July in Omaha. It keeps growing and getting bigger every year, and it is THE PARTY OF THE YEAR in the midwest.
We just signed a new management contract that has landed us the opportunity to record with a multi-Grammy Award Winning Producer in the coming months.
We release new songs all of the time on our youtube.com/krislagerband page and krislagerband.com. We just released three new songs that we recorded in June while we were on our West Coast tour in San Francisco.
So fun and exciting stuff is on the horizon, no doubt.
How did the KLB form, and what makes the band different from other bands?
The band originally formed out of friendship and love for the music. Jeremiah on keys joined the Kris Lager Band when I was just 19. At the time I was mostly just playing bars around the Midwest with an ever revolving cast of musicians. We were playing a lot of straight up blues and guitar based classic rock back then, but I was wanting to play more original music with a different twist. Jeremiah wanted to do the same and it was the perfect timing for a change. That was 13 years ago….
Which leads me to why I think KLB is so much different than any other band on the scene today. We've been around, but we haven't been spoiled… Throughout my whole career and into today it feels like we are on this steady, yet fairly slow rise. We haven't had a lot of national exposure so everything we've done has been grassroots style. We show up in any town over and over and just have repeatedly hammered out a following. We have a pretty solid and loyal underground following that has nurtured us and inspired us for for well over a decade now.
Being together this long has honed my vision for the band. It has expanded my awareness and desire to include the fans. I want to lift peoples spirits. My main motivation at a KLB show is to get people dancing and singing. I want people to clap and holler. I want them to let go and be free. You are in a judge free zone on a KLB dance floor. A place where you don't worry if others may criticize you or think you're weird, or you can't dance. THAT'S RIDICULOUS! I have the opinion that EVERYONE should sing and dance. It is therapy!!
Musical genres have become very splintered in recent years. How do you define the music of KLB?
I don't worry about genre. I love every style of music. We are creating our own genre through our love of everything and performing without fear and with awareness for the effect music has on the listener.
Why do we even care to classify so much?? There's the fact that different genres have different melodies, rhythms, or approaches sure. BUT lets not confine ourselves, and only identify ourselves with certain social scenes and specific musical approaches. Let's be free of pre-conceived notions of what is what it should be…. Let it be what it is…. Music for the soul played on instruments by people who love music
Bands today seem to have to do a lot of self promotion with social, video and web channels just to make a name for themselves. How have you tried to do this and remain focused on making great music?
There really is only so much time and work is only as laborious as you make it I suppose…. I definitely would love to spend more time creating music. I look forward to being able to pay someone to handle a lot of the tasks that take my time away from creating music and art.
What's one thing you like and one thing you hate about Sioux City?
I love the people of Sioux City. We have a lot of friends here and there is a ton of great musicians that have become friends as well. Most recently The Emily Johnson Band. We played with them last time we were in town and oh my goodness Emily can SING!!! The one thing I hate is when I have to leave… 😉
What influences you as an artist – musical or otherwise?
I love music, I love people, and I love playing music for people.
There is so much great music in the world today and when I run across talented folks who are passionate it really lights up my world. Recent musicians that fall into this category are: The Wood Brothers, Amos Lee, Mike Dillon, Henry & The Invisibles, Tab Benoit, Anders Osborne, Willie Nelson, Wilson Pickett, Dr. John, The Rolling Stones, Hayes Carl, Todd Snider, Sturgill Simpson, The Budos Band, Prince, Lightnin' Hopkins, Monophonics, Keb' Mo and The Band. Just to name a few…
You are on the road often. What has touring taught you about being a musician?
My vision and my mettle are two things that are constantly being tempered on the road. What a lot of folks don't understand about being on the road is that you are in it. Everyday, every night, every hour, every minute. You are leaving behind the comforts of home. Your bed, your girl, your family, friends. Shower and couch. It's a whole another lifestyle that looks a lot of fun and is, but is very different than being at home. So it has taught me to be simple and free. Let things be as they are. Buddhism and the road has helped me discover that.
It's easy as a musician to get thrown off of your game too. Maybe the club or bar is empty. Maybe the band's not getting along, or someone is giving you flack. None of that matters when you hit the stage. You have to delivery! You have to broadcast good vibes to the people and remember why you are there and why you came in the first place. That's METTLE… or as my dad called it moxy.
What's your favorite road food?
Anytime I get a home cooked meal on the road or find some veggies it's a beautiful thing.
---
Photo credit: Red Bearded Rambler Photography