Food & Drink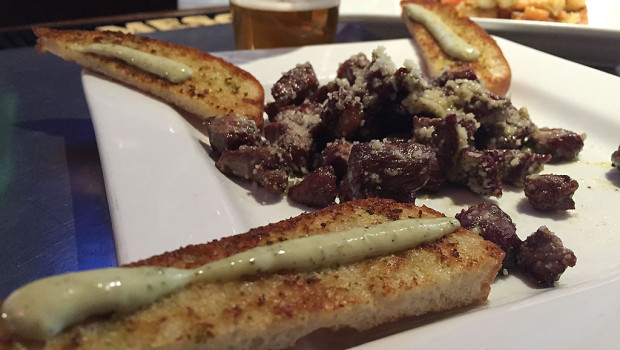 Published on May 1st, 2015 | by Thomas Ritchie
0
21st Amendment apps and burger a flavorful food tour
I'm not much for mixing breakfast with dinner, but that's exactly what I did this week when I tried the Capicola Burger, the house burger at 21st Amendment.
You see, it combines a burger, a liberal slice of capicola and a drippy egg.
But let me back up before I get too far ahead of myself.
21st Amendment, if you don't know, is the newest pub to open on Historic Fourth Street in downtown Sioux City. It's located in the previous TomFoolery's location, and owners Jesus Sanchez and Renso Moreno are doing everything to remake this great location into a destination for food, drinks and good times.
So it was that I found myself this week ordering the Capicola Burger and appetizers. Capicola, to the uninitiated, is an Italian cold cut with a rich, smoky flavor.
We started with the chislic and shrimp scampi apps, which were both delectable.
The chislic is covered with parmesan cheese and is nicely spiced. Served with crusted bread and a basil aioli, this starter is perfect for any meat lover. Sorry game fans – the chislic here is not wild game, but delicious steak. Meat lovers will find much to love about this take on a regional classic.
The shrimp scampi is served atop a bed of crusted bread and herbs and cooked with garlic-fused oil then topped with fresh diced tomatoes. As a shrimp fan – this was an easy choice, and was actually a recommendation from Moreno, who said it's his favorite app. I could eat this stuff all night.
Apps like these are raising taste expectations at restaurants across downtown Sioux City, and that's a good thing.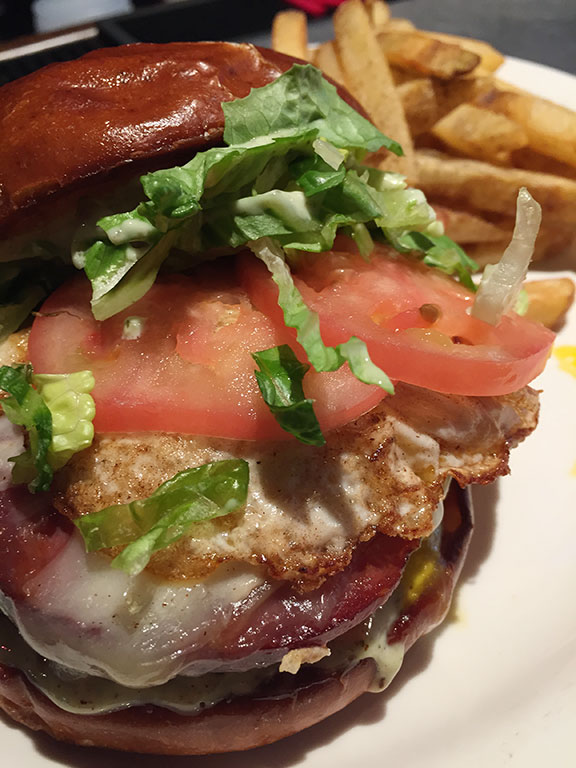 Then our burger and fries arrived. Damn!
First, a little pontificating about burger trends lately. It seems that the egg has made a name for itself on burgers. There are at least 3 local places I know of (and I'm sure many more I don't know about) that feature this breakfast staple on a burger. And I'm not a big fan of over-easy eggs to begin with, let alone dripping on a burger. But I love food, and so I took the dive and never looked back.
The egg was noteworthy if only because of my disdain for the runny yolk, but it really isn't the highlight of this burger. Sure, its flavor adds to this tasty selection, but it plays second fiddle to the capicola. As I said, it's a liberal slice – not like those thin slices you get at the deli counter. In fact, it's about one-eighth to one-quarter inch thick, and it packed a spiced punch in every bite. Nice touch.
Other contributors to this taste sensation include smoked mozzarella cheese and a basil pesto aioli, all contained within a pretzel bun. Add tomato and fresh lettuce, and presto, a new favorite is born.
A final note: I was expecting this burger to be messier than it was. The dripping egg made for a few gooey bites, but it wasn't too bad.
The pile of fries were nicely spiced, but I kept coming back to the burger and that capicola.
Overall, everything we tasted had a distinct flavor all its own, nicely spiced and seasoned to nestle on your tastebuds and stay there.
Check out the 21st Amendment for dinner, and dive into their new menu. You'll be glad you did.