Art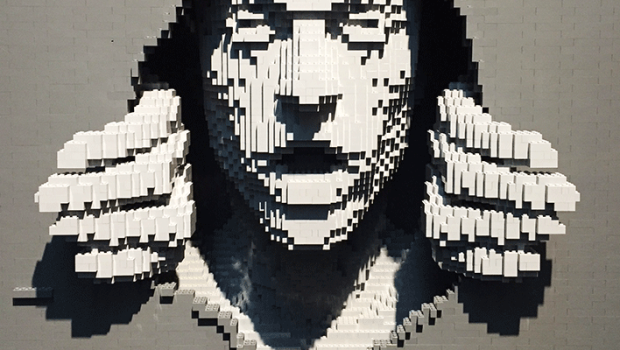 Published on March 14th, 2016 | by Ivy Sweet
0
Artist crafts a creative legacy one LEGO brick at a time
Art has found a new medium in building blocks that were originally thought to be only for children.
"The Art of the Brick®" exhibition at the Sioux City Art Center is dazzling visitors with its shiny classic LEGO® bricks and bright colors, as well as enthralling them with its complexity.
Created by lawyer-turned-LEGO sculptor Nathan Sawaya, these unconventional pieces have been attracting visitors of all ages.
"I was wary at first of doing an exhibition of toys," said Todd Behrens, curator of the Art Center. "But I realized what he does with them is more than cute. He replicates existing objects and artworks."
Like most LEGO fanatics, Nathan Sawaya played with LEGOs when he was a kid. Years later, after becoming a lawyer, Sawaya found that putting LEGOs together at home served as an effective stress relief from his job.
Related: See a photo gallery of LEGOs artwork.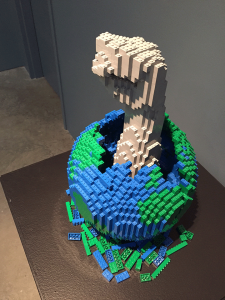 Sawaya found himself struggling with his path in life – he was not satisfied with the career he had chosen and wanted to find something more enjoyable and meaningful. So as his LEGO artwork became more sophisticated, he shifted his life's direction and became an artist full time.
"He got into a little trouble with the LEGO Corporation," Behrens said, "but with his background as a lawyer, he knew how to work his way out of it. He told them that he was doing something completely different from what they were doing – he wasn't making toys for kids, he was making very un-LEGO things as an adult, for adults."
Indeed, the construction of Sawaya's pieces is far more complex than something that a child might put together in their basement. Many of his pieces are also larger than a child's creations, like his "Nathan Replica," which stands at the entrance to the exhibit and appears to be a life-sized statue of Sawaya himself sporting a tuxedo.
Sawaya's LEGO works also have a clear emotional inspiration and artistic vision. The darker pieces – such as the aptly named "Pushing Against," a LEGO statue of a person pushing upwards, and "Yellow," a torso of a man ripping himself open to spill his insides (which is made out of bricks that are, well, yellow) – illustrate Sawaya's inner desire to break free from the unsatisfying life that he was living before becoming an artist.
Many of Sawaya's pieces are collaborations with the photography work of Dean West. LEGO pieces such as "Umbrella" and "Large Cloud" are featured in West's photographs, edited into the photographed scenes as replacements of the real life objects.
The pixelated appearance that the LEGO bricks give to the objects that they are a part of adds a very outside-of-the-box, futuristic style to West's photographs that is unique to what might be expected from a typical art exhibition.
Sawaya reportedly has 5 million LEGOs on hand at any given time in his Los Angeles-based studio, ready to be assembled into his next artistic creation. Multiple exhibitions of his work have been touring the world.
"This one is one of the smaller shows," Behrens said. "It's more focused on artistic work."
The Art Center has shown some notable exhibits over the years, from elaborate motorcycles to a Jackson Pollock painting that took up most of a gallery wall.
"["The Art of the Brick" has been] probably more popular than any of them," Behrens said, based on the turnout during the exhibit's first two weeks.
Behrens expected families to be the main demographic attracted by the LEGOs, but has been pleasantly surprised to find people young and old, alone and in groups, coming to see Sawaya's pieces.
"It's been really gratifying," said Behrens. "There aren't many chances to do shows where kids are a target audience. We were hoping to have a steady audience of little people."
The Art Center has added their own colors to the exhibit through painting the walls and the pedestals, which complement the LEGOs and make the exhibit even more visually attractive – and definitely worth checking out.
"It's a lot more elegant than I expected," said Behrens.
"The Art of the Brick" is on display through May 8. The Art Center's hours are 10 a.m. – 4 p.m. Tuesday, Wednesday, Friday and Saturday, 10 a.m. – 9 p.m. Thursday, and 1 p.m. – 4 p.m. Sunday.