Community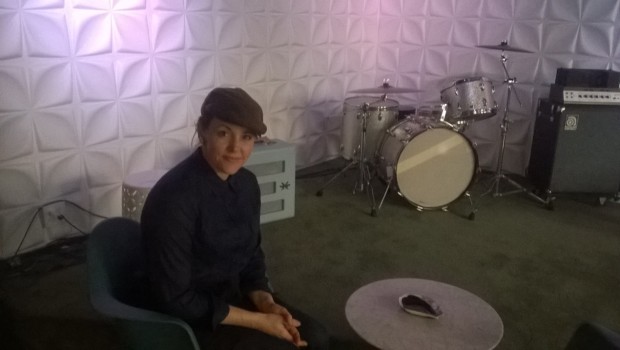 Published on August 19th, 2016 | by Ivy Sweet
0
Blue Café serves fresh food and performances
Local musicians have a new place to perform – and eat.
The Blue Café "On the Block," located at 1301 Pierce St., is a unique live performance space and restaurant rolled into one.
"The Block" on which the Blue Café resides is shared by the Sioux City Conservatory of Music. Gia Emory, who teaches classes at the conservatory, opened the restaurant with her husband Ron Emory to give their students a new performance space. They intend to also use the restaurant to bring in more money for the conservatory.
"We needed a venue space for our students, and we like to eat a lot, so this place was a good fit," said Gia Emory. "We serve everything fresh and give 10 percent of the proceeds back to the music school."
The Blue Café is a good opportunity for live music – not just for students to perform, but for students and guests to see live performances from other musical artists. Symphony musicians, touring acts, and local bands have all performed at the café. Upcoming performances can be found on the Sioux City Conservatory of Music's website.
Emory and her husband weren't finished with what they have dubbed "the Block" by just opening a restaurant. They have expanded into the 1303 Pierce St. space next door to the Blue Café. The Gimme Shelter "anti-mall" is a consignment shop from which Emory also plans to donate 10 percent of the proceeds to the music conservatory.
"It's a platform for us to give back when we can," said Emory. "The conservatory is nonprofit and everything else is for profit. It's an outreach effort for the conservatory."
Emory hopes that the proceeds from the Blue Café and Gimme Shelter can be put toward instruments and new lesson studios for the conservatory's students. The Sioux City Conservatory of Music currently has over 200 students.
Teaching classes at the conservatory and running the Blue Café are not very different from each other in Emory's eyes.
"They're about the same," Emory said. "They're both serving people. With both, people can come and see live music. We just added food."
The Blue Café is open Tuesday through Friday from 11 a.m. to 2 p.m., Friday and Saturday evening from 4 p.m. to 10 p.m., and during every scheduled live performance.